A man wanted by police for questioning was yesterday shot in the arm by members of a mobile police patrol at Vigilance, East Coast Demerara.
Police said Dwayne Critchlow, 28, of North Vigilance, was wanted in relation to an incident that took place in May, where it is alleged that armed with a firearm, he had threatened a police officer at Plaisance.
On seeing the police patrol yesterday, police said, Critchlow proceeded to run and was pursued by the ranks, during which time he pulled out a firearm and discharged rounds at the ranks who returned fire.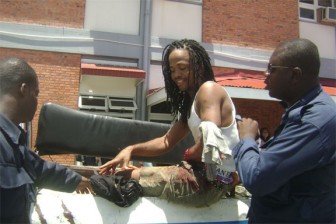 The incident took place at around 11am. According to an eyewitness, he was just returning to his business place at Buxton, when the ranks pulled up at Brusche Dam and exited their vehicle. The eyewitness related that the ranks dispersed, with some staying at Brusche Dam, while some went over to the other street in Vigilance, following which they began firing shots in the direction where Critchlow was situated.
The man continued that Critchlow then ran a little way down the street and began jumping fences, and it while doing the latter that he received the gunshot wound. According to the eyewitness, the fugitive still managed to elude the ranks by running into a nearby bushy area. The witness said it was after the episode that he learnt that Critchlow had just robbed a woman a few streets away.
The police release said that Critchlow was later found in a house at Friendship North, East Coast Demerara, with a suspected gunshot injury to his left arm. He was admitted as a patient under guard at the Georgetown Public Hospital.
As he was being escorted from the patrol van at the hospital, the captive gave his own version of what had transpired: "I just going to see me girl and they shoot me."
Around the Web