Job creation is the most pressing issue facing Amerindian communities, with matters like health, education, water and transportation addressed to a great extent, Head of the National Toshaos Council (NTC) Yvonne Pearson says.
She said that overall, development in Amerindian communities has improved tremendously and while it is not perfect, she is happy at the rate at which progress is being made. But she is not satisfied at the level where Amerindians are at the moment. "If I say I'm satisfied with how Amerindians are now, that means I gon' down tools and I gon' go home and relax because I'm satisfied. But when I say I'm not satisfied, that means I have some more work to do," she told Stabroek News in a recent interview. "I would like to see Amerindians participate and …hold office in every area," said Pearson. "We're not there yet, so I can't be satisfied."
In this light, the NTC head called on Amerindians to take every available opportunity and make good use of it. "Educate yourself, don't be afraid to take on responsibility," she urged. "I'm happy that we are being given the opportunity but we have to make use of the opportunity," she said. According to Pearson, Amerindians would have to "stifle" their conscience not to recognise the effort that is being made to provide platforms to enable them to voice their concerns and address their issues. She called on Amerindians to recognise these efforts and urged that they continue to work together.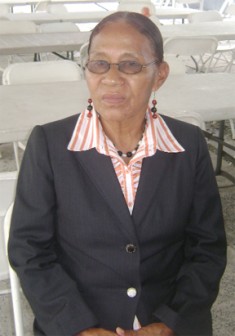 At this point in time, the villages need economic opportunities, Pearson stressed. She said that villages have produced community development plans, with most of these focusing on creating such opportunities but funding remains a hindrance. She noted that money was supposed to come from the Guyana REDD+ Investment Fund (GRIF), which is being funded by Norway through its forests' partnership with Guyana, and she added that the "delay" in the disbursement is frustrating.
The fact that no money has been disbursed from the GRIF is a "big issue," Pearson said. She pointed out that President Bharrat Jagdeo had openly committed that Amerindians would benefit from the fund. "We were advised to sit down with our various villages, discuss and decide what are those projects that we would like to carry out in our community. We did all of that. However, [with] the delay in the funds, we are concerned. Why is it that the funds are not being released when we know that the funds was deposited by the Kingdom of Norway in the (World) Bank?" Pearson asked.
She said that there has been some explanation that there have been requests by non-governmental organisations and others for more transparency in the release of the funds but "the Bank has not responded to our knowledge to what is really the cause so that we can fix it."
When it was pointed out that the Steering Committee of the GRIF has to approve the project and then ask the World Bank to release the funds, Pearson said that the projects, including the hinterland electrification project and others were submitted. However, she had no further information and advised that the Minister of Amerindian Affairs be contacted for more details. "The point is that we are still waiting and we are disturbed over the fact that commitments are not being honoured in a timely manner," she said.
'Prioritise'
The hinterland electrification project would see solar panels provided to each household in every Amerindian community. This was to have been funded under the GRIF, but Jagdeo at the National Toshaos Conference at the ending of July said that government would use funds from the budget owing to the slow disbursement from the GRIF.
Pearson said that while she agrees with the President, it is a huge project and "I doubt whether we can find the money elsewhere to ensure that every home has a solar power because of the cost." She said that they may have to prioritise. The IDB had funded a pilot project and one of the issues raised were that the panels were too small, but Pearson said that the new ones would be bigger. She defended the pilot projects, saying that children are able to study under a better lighting system. Some people might not understand "but we who live out there we appreciate it," Pearson said.
In relation to the recently concluded National Toshaos Conference, she said it was successful because most of the issues raised at the Conference in 2010 were addressed. According to her, the remainder dealt with roads but, she pointed out, the demand is great and government has to prioritise since the cost is also high.
Some toshaos had not signed on to a resolution calling on the governments of Norway and Guyana to intervene to expedite the release of funds from the GRIF, but Pearson said that about 95% of the toshaos signed. She suggested that some did not because of their connection to a particular NGO. She said that she had drafted the resolution but later credited it to the Executive Council of the NTC and she noted that it was circulated and discussed. Quizzed about her attempting to read out the names of those who did not sign, she said that it "was not to get at those toshaos" but that there were two copies of the resolution and some had signed one and not the other, "so, the attempt was to verify names."
Asked why the private media was not allowed into the Conference, Pearson said that they had a right to invite whoever they want and they did not want the private media to be there because the private media "always seem to interpret things the wrong way. They look only for all the little things and to see how they can turn it their own way." She said that that the Executive Committee of the NTC had previously discussed how they would handle the media and they had asked the Ministry of Amerindian Affairs to issue passes. When it was pointed out that only the state media was issued passes, she said that the toshaos are part of the local government system and have a right to promote and publicise what they feel.
Meanwhile, the 'opt-in' process for Amerindian communities to the Low Carbon Development Strategy has not yet started. "There is no guidelines," said Pearson. "If there is no guidelines, how could you talk about opting-in?" She said that the NTC will come up with a draft and "we hope to meet with villagers to discuss [it], because if we are going to opt-in there must be guidelines." They also have to talk with government, she said. The NTC head said that another "big concern" is that they are yet to receive funds from the Forest Carbon Partnership Facility to carry out further consultations on the LCDS. The project proposal was submitted to the Inter-American Development Bank, through which the funds will be channeled but thus far they have had no response, she said.
'We have to creep
before we walk'
Asked her position on recommendations that the NTC be more independent from the Ministry of Amerindian Affairs, Pearson said that she agreed but asked who was going to pay for it as it is difficult to source funds. "If we want to run an office, we need funds, we need office space, we need to pay rent, we need to employ people and nobody except government has made some funds available for us to operate," she said. She pointed out that most toshaos have never attended secondary school and they have been working to build capacity and they are now in a better position to start managing things. "We have to creep before we walk and people don't understand that," she said.
In relation to Amerindian communities affected by gold mining, the NTC head said that in some cases, there were mining operations on the land before land titles were granted and some villages "actually inherit the operation." She said that the villages and the owners of the operations were urged to talk and, in some cases, agreement was reached. "What I learnt that some went well but not all went well, so there is still some issues in the mining areas but we do hope that GGMC or special effort is being made now… to address these issues and bring them to closure," she commented. Pearson said that she has not heard of the pollution of streams being raised as an issue.
In relation to land issues, the NTC head said that a special effort is being made to get all the stakeholders together to work through disputes.
One of the longest serving Amerindian leaders, Pearson has been the head of the NTC since 2009 and she said that it has been challenging. Prior to this position, she served as a councilor on the Mainstay/Whyaka village council from 1992 before being elected a toshao in July 1994, a position she has held to date.  "I never come out of office, so I grow old being a toshao," she said. With the 2006 Amerindian Act limiting toshaos to two terms, Pearson is due to step down in 2012.
As head of the NTC, she has to ensure that the rights and interests of the entire Amerindian population are represented, Pearson said. In some cases, the NTC is the medium between the local village, government and others, she said. "You are that connection because you have to be able to liaison with the local village and also with others," she said. Given the size of Guyana, she said that communication is important but while they would like to reach out to every village, it has a cost.
From the Carib Amerindian tribe, Pearson said that she felt honoured and privileged that toshaos, who are over 95% male, had the confidence in her to elect her as head of the NTC and, she chuckled, had "seen it fit to put a woman there for the blows."
Next year would be the end of her term and Pearson said that she felt that she should have done more and would have done so if there was financial support. Personally, she said, she would have liked to visit villages and discuss how they can move forward. "I'd help them to identify what resources they have so they can build on that…personally I would like to do that, go to more villages, talk with them and help them to identify  things within their communities…help them," she said.
The NTC head said that she sees Amerindians running the country in the future. "I see us in the future more involved in the management and the governance of this country," she said. "It is my hope before I die that we would have an Amerindian President."
Asked if she was open to serving at another level, Pearson said that she would make that decision at the time the opportunity presents itself but she is prepared and has energy. She stressed that she has never campaigned for any position. "I try to do my best at all times, I go beyond the call of duty if I have to go. I do what I have to do and I've been doing that over the years. Wherever it leads that is it for me, but I never campaign for any position," she emphasised.
Around the Web