More than a year after construction started, the Nurses Hostel at Port Kaituma is far from being completed, resulting in nurses having to live in a single room at the hospital.
Stabroek News was reliably informed that works started early last year and was supposed to be completed in August of the same year. It was then pushed back to last December. However, the two-storey structure is still without a roof and only the walls for the upper flat have been completed.
When contacted about this situation, Regional Chairman Fermin Singh admitted that the building under construction in the hospital compound should have been completed by now, but pointed out that the contractor has been using the weather as an excuse for delays. Singh could not say when the facility would be completed.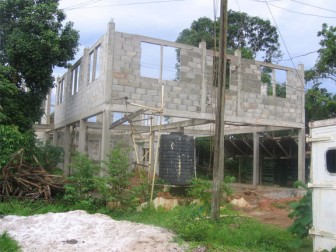 Concerned resident Richard Allen told Stabroek News that the nurses stay in a room next to the doctor's office. He said that the wares of patients, including those with Tuberculosis, are washed in the same sink the nurses have to use and that is not only unfair but unhealthy.
"With all the hardships they (the nurses) are facing, they are still doing an excellent job," he said, while explaining that sometimes there would only be two nurses working on the weekends.
Allen noted that the hospital is short of staff, with one nurse sometimes having to work a shift alone.
"This is unfair that they are taking people from their homes and putting them in insanitary conditions," he stressed.
He said that regional officials have been asked when the building would be completed but no one seems to know the answer.
Around the Web