Robert Simels, one-time lawyer for Roger Khan,  has failed to have his convictions for conspiracy and other offences overturned in New York.
According to yesterday's New York Law Journal,  Simels failed to convince a federal appeals court to overturn convictions for conspiracy, attempted obstruction of justice and bribery.
The convictions stemmed from Simels' attempts to build a defence for Khan. The court's ruling means that the high-flying criminal defence attorney willserve a 14-year prison term for conspiring to intimidate and corrupt witnesses in the case against convicted drug lord Khan.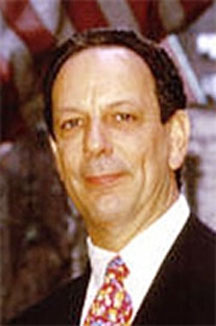 The Law Journal said that the U.S. Court of Appeals for the Second Circuit upheld 10 of 12 felony convictions won by prosecutors in 2009 in the Eastern District U.S. Attorney's Office. Prosecutors had proved that Simels tried to prevent potential witnesses from testifying against his client.
In a minor victory for Simels,  counts of importation of electronic surveillance equipment and possession of electronic surveillance equipment were vacated by Judges Jon O. Newman, Guido Calabresi and Peter W. Hall, who heard oral arguments in United States v. Simels on April 29, the Law Journal reported. These particular counts were of importance to Guyana as there had been a furore over the surveillance equipment which was believed to have been specially imported into Guyana with government permission so that Khan could prosecute his fight against criminals and protect his drug turf.
Khan, the Law Journal noted, had hired Simels for a retainer of US$1.4 million, but ultimately pleaded guilty in the drug conspiracy after his lawyer was charged.
Against Simels, prosecutors had used a cooperating witness and Drug Enforcement Administration informant, Selwyn Vaughn in the trial.
During the trial, the Law Journal noted that the US government presented five recorded conversations between Vaughn and Simels in the attorney's office between May and September 2008. In the conversations, Simels was heard proposing to bribe and threaten potential witnesses against Khan.
One particular target was former Army Major David Clarke who was likely to be the star witness against Khan and who had also been accused of being involved in drug trafficking.
Reuters reported that on one recorded conversation, Simels was heard telling Vaughn to intimidate Clarke.
"Well, (Khan)'d like as much pressure being put on Clarke as possible, but he thinks if Clarke's mother gets killed, that the government will go crazy."
Clarke, a former Major and one-time commander of a joint services operation in the then troubled village of Buxton, is a highly controversial figure in the whole web surrounding Khan and his activities here.
Incriminating conversations between Simels and Khan in the attorney visiting room at the Metropolitan Correctional Center were also introduced at the trial.
In his appeal, Simels argued that the government invaded his attorney-client relationship with Khan, that evidence on five counts was insufficient, and that several of Judge John Gleeson's rulings deprived him of a fair trial, the Law Journal reported.
The appeals court opinion, according to Reuters, found that the government's use of a confidential informant and its recording of conversations between Khan and Simels were appropriate considering the government had sufficient suspicion of wrongdoing.
"It was not only not overreaching to investigate you, but it would have been a dereliction of duty not to, given the facts available to the government," the opinion quoted Gleeson as saying at Simels' sentencing.
The report noted that Simels prevailed only on the electronic surveillance equipment counts, 18 U.S.C. §2512(1)(a) and (b), which concerned a "base" that allegedly could be used to surreptitiously intercept radio signals between phones and cell towers as well as two laptop computers.
Store
The laptops,  Simels testified, were given to Khan by Guyanese government officials to store intercepted conversations, and one of them contained a conversation involving Clarke. The Law Journal said that writing for the Second Circuit, Judge Newman said the evidence showed the equipment was inoperable.
With respect to electronic devices, Judge Newman said, "Congress covered only those 'which can be used' to intercept communications and added, as a mens rea requirement, that the device be known to have been designed for the purpose of surreptitious interception."
The report noted that the ruling was of little help to Simels because Judge Gleeson had sentenced him on the surveillance equipment counts to time served and no supervised release, making it unnecessary for the court to resentence him.
The Law Journal noted that Simels was a 1974 graduate of New York Law School.
Clarke was sentenced to time served on December 4, 2009 after Khan had pleaded guilty.
Clarke was at one time head of Operation Tourniquet in Buxton, an operation that had been aimed at quelling the crime wave but was not successful. Instead, it had been alleged that Clarke was actively working with the criminals and also with Khan to traffic in cocaine.
Clarke's case is of great interest on the local shores because not only was he a major in the army, but he has been publicly accused by President Bharrat Jagdeo of being in cahoots with the Buxton criminals while he was stationed there as head of Operation Tourniquet. This accusation also came from convicted drug trafficker Khan.
Following a report in this newspaper about Clarke being in a US jail on drug trafficking charges, Jagdeo revealed that he had received "confidential information" from Buxton-ians that the Guyana Defence Force (GDF) officer was working with criminals. At the time Jagdeo, who said he was "vindicated" in blocking Clarke's promotion for a year and ordering that he return home from an overseas training stint he had been halfway through, said he could not order a court-martial as Commander-in-Chief of the armed forces since he wanted to protect the identities of the informers. He had also said that he was still not willing to reveal the persons' identities.
Around the Web