The Women and Gender Equality Commission on Thursday handed over its first annual report to Deputy Speaker Clarissa Riehl.
The report outlines its meetings, programmes, activities and work plan and other events.
Chairperson of the Commission Indra Chandarpal handed over the document to Riehl and asked that it be laid in the National Assembly on behalf of the Commission.  The document covers the period from May 2010 to May 2011.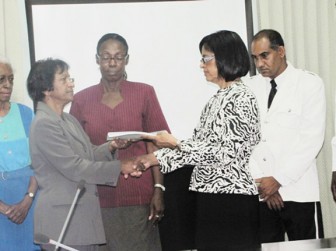 Riehl, who has been performing the duties as Speaker in the absence of Ralph Ramkarran, promised that the document would be laid during the next sitting once she is in charge.
Meanwhile, Riehl presented Chandarpal with a document, titled "58 years of Guyanese Women in the Legislature." The document was produced by the parliament library, upon a request by the Commission.  The document was completed in two months, Riehl disclosed. Chandarpal said that the Commission will now be asking the library to produce a similar document chronicling the male parliamentarians.
In keeping with the International Year of People of African descent, the Commission will be honouring more than 52 Afro-Guyanese women who have contributed to the country's development in a variety of ways.  This would be done at an event slated for August 27at the National Cultural Centre.
Around the Web