Three persons were yesterday injured in separate road accidents, all escaping with minor injuries.
The first occurred some time after 12 noon at the Junction of Shivnarine Chanerpaul Drive and North Road, where Onika Morgan, 25, was struck by a motor car while riding her motor scooter. She was taken in an unconscious state to the Georgetown Public Hospital (GPH). Her husband later related that it was "nothing serious" and that she is doing fine.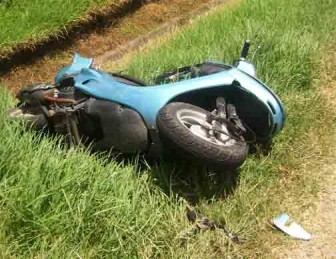 The second accident took place on Camp Street, in the vicinity of Exclusive Styles, where Hazel Alves, 54, was also struck down by a motor car, while riding her motor bike. According to the woman, she was heading home to Charlestown when the vehicle appeared out of nowhere and struck her. As a result she ended up under the vehicle, after which it drove off, leaving her in an unconscious state. She was subsequently taken to the GPH, where she received treatment to her fractured right arm and abrasions about the body.
Halvard Marks, the third victim was driving motor car PGG 3327 along Mandela Avenue on his way to Sheriff Street, when he ended up in an accident. He was taken in an unconscious state to the GPH, where he subsequently regained consciousness. According to the 39-year-old he is unable to recall what transpired as he only remembers driving then waking up in the hospital. He sustained head injuries, and injuries to the right arm and chest. He had been on his way to purchase water when the accident occurred.
Around the Web