Veteran actor Shammi Kapoor passed away yesterday after a prolonged illness, the doctor attending to him said, according to Reuters. He was 79.
Kapoor, known for his flamboyant style and energetic dance moves that charmed movie-goers of all generations, is survived by his wife Neela Devi and two children.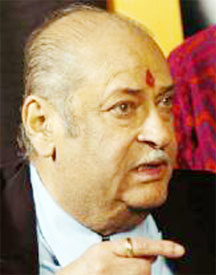 "He was on dialysis for the past 8 to 9 years and was admitted to hospital a week ago. He had kidney failure, and also respiratory failure," Bhupendra Gandhi of Breach Candy Hospital in Mumbai told Reuters.
The film industry was quick to react.
"Shammi Kapoor ji passed away this morning at 5:15 am… Rushing there now… the flamboyance and joi de verve (sic) of the Industry lost," actor Amitabh Bachchan wrote on his Twitter account.
Kapoor, one of the Hindi film industry's three Kapoor brothers (the other two being Raj Kapoor and Shashi Kapoor), was part of what is known as Bollywood's first family.
Remembered best for his 'Yahoo' song in the movie "Junglee", Kapoor won a Filmfare award for best actor in 1968 for his role in "Brahmachari", Reuters said.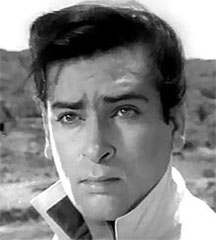 And in tributes today, the Times of India reported actresses Sharmila Tagore and Saira Banu who made their debuts opposite Kapoor in "Kashmir Ki Kali" and "Junglee" respectively as saying they will miss the star who was "high spirited and so full of life".
Tagore, who made her foray into Hindi films with Kapoor in 1961 romantic movie "Kashmir Ki Kali" and later starred with him in the hit movie "An Evening In Paris", told The Times of India that she was very sad and upset by the loss of such a wonderful person.
"He had so much courage and so much of energy, which was just wonderful. He was a fun loving person," she told a news channel.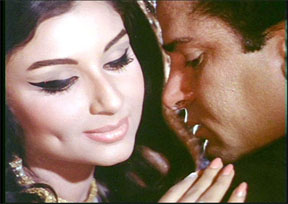 Reminiscing about the shooting of "Kashmir Ki Kali", Tagore said, according to The Times of India, "I remember while shooting 'Kashmir Ki Kali', he would rehearse something and do something totally different during the take. He would come from right and then from left and start doing (an) impromptu scene which we never rehearsed. It was great fun working with him."
She said that when director Shakti Samantha used to ask him the reason for his pranks, Kapoor would just laugh.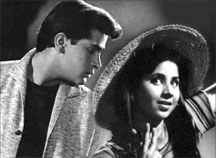 "He was completely over inhibition and full of life and this is what I learnt from him. He was so bubbly and this is the lesson which I took from him," she added.
Banu said the news of Kapoor's death came as a grievous shock.
"Shammi Kapoor is one person you cannot associate with death. One would feel that he is eternal. He was so full of life. Even on the wheelchair, he couldn't restrict his bubbly nature. He came out of every illness with absolute perfection," she told news channel Headlines Today.
"There was never a moment of pain in his talks, neither was there any craving for sympathy. He always used make us laugh with his anecdotes, always sharing lovely tete-a-tate with Yusuf Sahib (Dilip Kumar)," she told the channel.
"We met recently and when I asked him about the health of his brother Shashi, who was ill, he told me he will recover soon," she said adding that Kapoor was such a positive person and that losing him is a terrible shock.
"He was like a bottle of soda. I have never seen him quiet or upset. He used to vibe well with every age group, be it my grandmother, my husband (Dilip Kumar) or my niece who had a terrible crush on him," she added.
Hema Malini, who worked with Kapoor in films like "Andaaz" and "Meera" tweeted that it is a very sad day for the Hindi film industry. "The film fraternity has lost one of the most loved actors and a much adored human being today, Shammiji. I had the most wonderful opportunity to work with him in films," she tweeted, according to The Times of India.
"He was a live-wire on and off the sets. So enthusiastic about his work and very dedicated to giving his best, Shammiji's power-packed performances touched people's hearts and his high level of energy was not limited to acting.
In its tribute, Filmfare said "While other heroes of the era pursued their heroines with a gentleman's passion, Shammi swaggered his way into a woman's heart. The masses liked this new brash approach and lapped up movies Dil Tera Deewana (1962), Professor (1962), Rajkumar (1964), Janwar (1965) and Teesri Manzil (1966). The movies were on most part formulaic, what with Shammi playing the part of a well-meaning spoilt rich kid who gets reformed through love and gets the girl in the bargain. His films had some of the best music of that era and several leading ladies like  Tagore, Asha Parekh and Banu were launched opposite him and reached stellar heights."
According to Filmfare, in his younger days, with a pencil moustache and lanky figure, he used to look like his brother Raj Kapoor and hence got similar social dramas or romances like Jeevan Jyoti (1953), Rail Ka Dibba (with a very young Madhubala, 1953) in the initial years.
"His fortunes changed with the romantic comedy Tumsa Nahin Dekha (1957) directed by Nasir Hussain. Shammi shaved off his mustache and cut his hair in the style of Elvis for the film and people began to take notice of this clean-shaved hero who romanced the heroine with oodles of attitude.  OP Nayyar's foot tapping musical score was another highlight of the film and numbers such as Yoon to humne lakh haseen dekhen hain and Chuppnewale saamne aa are still remembered today. Nayyar and Shankar-Jaikishan formed a partnership with him that for a decade or so gave us some of the breeziest romantic numbers ever composed", Filmfare said.
In Brahmachari (1968), he got his first Filmfare Award for Best Actor playing a man who ran an orphanage for abandoned children.  Professional success, Filmfare said, was marred by personal tragedy as he lost the love of his life Geeta Bali to small pox in 1965.
"Kapoor lost heart after that and reportedly took to alcohol and food …for solace. In 1969, he married Neela Devi Gohil from the Royal Family of Bhavnagar in Gujarat. Marriage stabilised him emotionally but he couldn't get his body back in shape and his weight made it a problem for him to be considered as a leading man. The Rajesh Khanna phenomenon was also on the rise at that point to time and the success of Shammi's Andaz (1971) was credited to Khanna's cameo in the film."
Around the Web