An 11-year-old boy downed in a Friendship, East Bank Demerara canal yesterday after going into the water at the invitation of a friend.
Relatives said that David Mohamed of Friendship Squatting Area did not know to swim and did not usually go into the water. However, after being invited by a friend, Mohamed plunged into a shallow section of the Friendship Sideline canal but as he moved about, he slipped into deeper water and was covered. He was pulled from the water several minutes later, apparently still alive, but died soon after despite an attempt to perform mouth-to-mouth resuscitation.
Recounting yesterday's events, Mohamed's sister, Jennifer Collette, told Stabroek News that because there are no pipelines in the area, David and his sister, Mary Collette, 12, are normally sent to fetch water from a pipe in a resident's yard in the other street. She said that yesterday, they went sometime around 8am, when her mother, Sharmela Mohamed, who is a security guard, had gone to work. Their father had also gone out.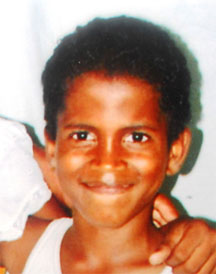 The siblings were on their third trip when a friend invited David to swim. He accepted the invitation and plunged into the water before venturing into the centre of the canal, Jennifer said. She said that according to what they were told, as he forged on, David slipped into deeper water and he sank. The friend went to the spot and David grabbed on to him but as the friend too sank, he shook David off and swam to shore. After noticing that David was not surfacing, he began calling David's name. A resident who was nearby heard the alarm and after a few minutes elapsed, another resident, who was preparing to go to church, plunged into the canal and after searching, found the body.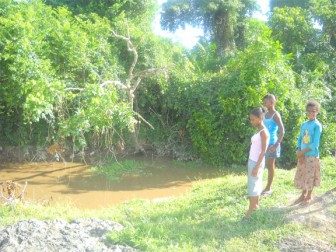 According to Jennifer, her younger brother was still breathing when he was pulled out of the water. However, she said, residents did not know what to do and he was left on the dam while the police and ambulance were called. Eventually, another resident attempted mouth-to-mouth resuscitation but shortly after, David passed away, she said.
Jennifer recounted that it was Mary, another neighbour, who came to tell her what had happened. Her mother rushed home and they went to the spot. "He was still breathing when we arrived at the scene," she said. The teenager said that a resident, Matthew, attempted to resuscitate the boy. "He had lil life when Matthew start shaking water out of he," she said. She said a lot of water came out. Matthew then performed mouth-to-mouth resuscitation but shortly after, David's hands "fluttered" and he became still, she said.
Meantime, speaking to Stabroek News in the presence of his mother, the 10-year-old boy who reportedly invited David to swim, said he had gone to the canal to wash his feet. "I sey I going and wash my foot in this trench and he sey he going and swim and jump overboard," the boy said. "I see he walking to the middle then I see he hands in the air," the boy said. "When I go to see what happen to him, He hold on to my waist," he continued. The boy said that he left the water and started shouting for his friend after he did not see him resurface. "A lady ask me wha happen and I tell she a lil boy deh in there drown," he recounted.
Jennifer said that the police took more than an hour to arrive but by this time, David was dead. He was taken to the Diamond Diag-nostic Centre where he was officially pronounced dead.
Residents and relatives grieved for the lad yesterday describing him as "friendly" and recounted fond memories of him. David attended the Supply Primary School and was due to enter Grade Six in September. Police are investigating the incident.
Around the Web