Ambassador Irwin LaRocque this morning assumed the Office of Caricom Secretary-General and pledged that it will not be business as usual as it relates to the regional integration movement.
"It cannot be business as usual," he said to the gathering at the Caricom Secretariat, noting that some architectural and governmental changes will have to be made. His appointment he said came at a time when the countries in the region were still feeling the impact of the global financial crisis and which countries are likely to face even more challenging economic times ahead.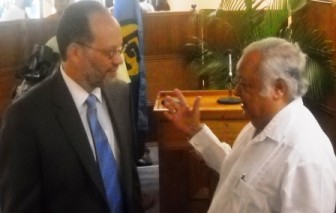 Chairman of the Caricom Heads of Government, Dr Denzil Douglas participated in the ceremony by video conference.  He noted that La Rocque's appointment signaled a new chapter in the life of Caricom.
LaRocque, a Dominican national, was educated at Queen's College and the New School for Social Research, both in New York, and New York University; he majored in Political Philosophy, Political Economics and Economics respectively.
Prior to his appointment as Assistant Secretary-General, he served as Permanent Secretary in various ministries in Dominica for more than 14 years, including in the Ministries of Trade, Industry, Enterprise Development, Tourism, and Foreign Affairs, where he headed the diplomatic service. He also served as the principal advisor to the Government of Dominica on all matters pertaining to economic integration and regional and international trade. LaRocque was Dominica's senior policy adviser on the revision of the original Treaty of Chaguaramas and served on the Caricom Inter-Governmental Task Force which drafted the Revised Treaty of Chaguaramas.
LaRocque, 56, has replaced Sir Edwin Carrington of Trinidad and Tobago. Lolita Applewhaite was serving as Acting Secretary-General for the past 7 1/2 months  since Carrington stepped down.
Around the Web