The dismembered body of a man, believed to be that of a missing Corentyne cattle farmer, was found last night in a canal at Black Bush Polder.
The body was without the head and legs.  He is believed to be Bernard Matheson, 41, who had gone missing on Sunday morning,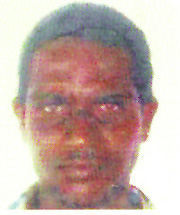 According to the man's father, Charles Matheson, his son, who resides with him at Lot 1 Philippi, Corentyne, left home early Sunday morning to milk cows in the backdam, situated about an hour and a half hour away. He never returned.
The man explained that normally when Bernard went out to milk the cows, he would return around 9am, at which time he would proceed to tie the horse across the road. However, after he failed to show up at the usual time, his father said he thought that his son "musse binna drink and nah feel good."
Around 4pm that day, when Bernard's mother became very uneasy about his absence, she went in search of him in the backdam. It was then that she discovered the cows still in their stalls, where they were lowing pitifully. They had apparently not been freed all day. After making the discovery, the man's parents then alerted the police, and along with some 20 persons, they formed a search party. But they did not find the missing farmer.
The senior Matheson related that yesterday morning, upon their return to the site, it was discovered that the cradles that held the milk pails were broken. He said that as they were about to resume their search last night, someone called them from Black Bush Polder, informing them that the body had washed up. The police were alerted.
Though they had not yet identified the body, Matheson believed it to be that of his son.
When asked whether his son had enemies, the father replied that "you must get enemy 'cause only enemy does kill you." But he added that he did not know of anyone with a grudge against his son.
Around the Web