A man, who was told by the National Insurance Scheme (NIS) in April of last year that he was dead after a mix-up, is still waiting to receive his pension payments.
Ronald Collins, 61, stated that his plight began two days after his 60th birthday in April of last year, when he visited the Fort Wellington, Berbice NIS office to apply for old age pension. He said that as he approached the NIS representative and explained the purpose of his visit, he was met with a frightening stare, after which was told that he was listed as dead in the company's system. "De woman seh what you doing here? De computer showing you as dead," he said. In a state of disbelief, he said he replied, `How could a dead man sit down in front of you? How? How?'"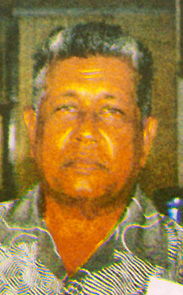 The employee then advised that he would have to visit the main NIS branch in Georgetown to see how best he could have the matter settled. He added that the clerk informed him that someone had been receiving survivors' benefits for years as a result of his phantom death.
Collins, who worked 40 years at Blairmont Estate, further added that his visits to the NIS offices in Georgetown, both at Brickdam and Camp streets, were all futile, since he kept getting the same responses: "You are dead." He said that he made several trips to the capital last year, all to no avail since he claims he was "given the royal push around …come back next week dis week, next month".
He left for the United States in December of last year despondent. He said his family kept making checks with NIS until June of this year and after feeling frustrated he decided to return to Guyana to pursue the matter. He approached the Guyana Agricultural & General Workers Union (GAWU) and with the help of their NIS representative, Dereck Thakur, was able to secure a private meeting with the manager of the insurance company, and he was told that an investigation would be done.
The investigation revealed that two persons were listed with the same NIS number as him. Further, there was another Ronald Collins, who is deceased and whose wife now receives death benefits. What seems to perplex Collins is that only three months prior to his pension application, he received sickness benefits from NIS for a period in which he was hospitalised. How that was made possible remains a mystery to him.
He added that he received a call last Friday and was told that the matter would soon be settled. However, to date there has been no payment and he does not have the monetary resources necessary to travel to the city to make further enquiries.
Calls to the National Insurance Scheme were referred to the Public Relations Officer Diane Baxter-Lewis. However, she could not be reached despite numerous attempts.
Around the Web