The once busy town of New Amsterdam (NA) which used to be a draw for persons travelling from West Berbice and Corentyne has not been the same businesswise following the opening of the Berbice River Bridge in 2008.
Businesspersons told Stabroek News recently that the reduction in traffic due to the location of the bridge at D'Edward Village on the West Coast has actually "shut out the town" and resulted in a decline in businesses.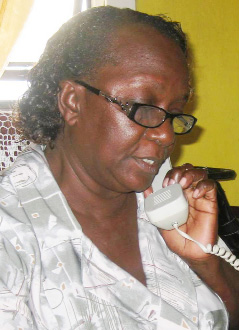 "People are not coming as they used to. We have seen some of the persons who used to support our business, shopping in Georgetown." NA was the hub of the ferry service that was the previous means of transport. The bridge terminates at Crab Island.
Residents nevertheless welcome the bridge as it has helped to take the stress off their travelling to Georgetown.
They related: "we used to have to get up very early just to get a space in the line to cross and it was very frustrating when we had to wait hours at the stelling."
Residents of West Berbice had told this newspaper that although "the bridge is a blessing for Berbicians" they preferred to remain and do most of their shopping and other business at their end. They try to avoid the hassle and high cost of travelling to NA.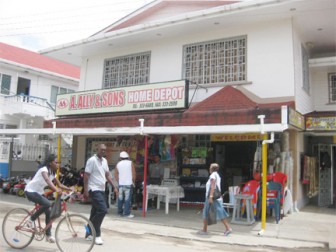 At times too, residents of the Corentyne have found it more convenient and economical to travel to Georgetown instead of going to NA to transact business.
It was observed that some business persons have had to downsize their staff, operate in a limited capacity and offer sections of their buildings for rental.
Some businesses have been closed completely since the opening of the bridge but yet many others are being established.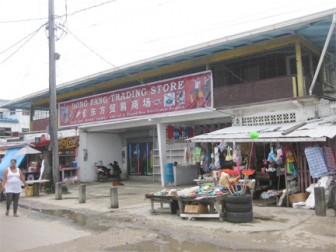 Around the town, huge buildings are under construction for businesses such as hotels, stores and shopping malls.
In an interview, Town Clerk, Angelina Collins told this newspaper "you are seeing changes; if business was not profitable people would not go into it."
She said too that "somewhere along the line the turnover may not be as expected but most of the businesses are still operating. When the money is not circulating everything is slow; businesses depend on the [sugar] estates."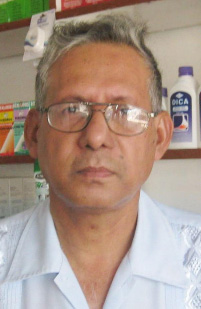 According to her, "I am seeing developments; new buildings are being constructed and new businesses are being opened, including a mall at Lad Lane and another business place at the head of Cooper's Lane."
A resident feels though, that apart from that, businesses in the town started to "fall to pieces from 1979. Before that the town did not have any garbage and drainage problems and there were concrete drains all over."
He felt that "the town was neglected when the local government system changed for the town clerk to be given more power and for all the citizens in the town to vote."
Businesses
Lilowtie Bhookmohan, the owner of Hotel Church International at Main & King Sts. and Church View Gift Shop on Main Street told this newspaper that "business has not improved since the bridge was built but I prefer the bridge."
She said while the location of the bridge has "slowed business in a way it is just a few minutes away from town."
She noted that "when persons crossed with the boat not all of them would stop in the town; they would go straight to the Corentyne if they have to."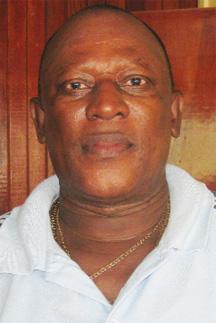 Regarding the hotel, she said persons are not staying as before because "they would finish their work early enough to travel back to Georgetown."
She also had to lower her prices to make them more competitive and is nevertheless contented with however the business runs.
She said though that "I prefer the bridge because it saves time. With the boat I could have only done one business for the day in Georgetown but now I can do a lot more in one day and still get home early."
Besides, she said, "thousands of people who live at East Bank Berbice still have to pass through the town to go to Georgetown."
She said confidently that "the bridge is progress and with time business would pick up. There are activities that can be done to make the town more attractive like giving incentives to customers."
She said there is talk about developing a deep water harbour in the Canje area and if that becomes a reality then money would circulate.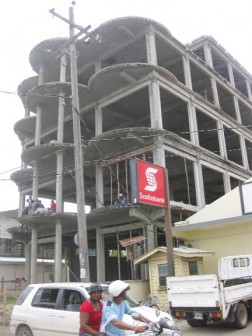 The woman who has been in business for over 30 years, said that at first she was solely responsible for running the craft shop. She started managing the hotel as well in 2004 after the death of her husband, Ramdial Bhookmohan. He had served as chairman of the New Building Society, president of the Berbice Chamber and was also a part of the planning committee for the bridge.
Bhookmohan who is into floral arrangements, fabric painting and other craft, creates many items to stock her shop. She also purchases from local craft-makers.
She developed her skills since she was a child doing needlework at school. She also learnt from an older cousin, a seamstress whom she assisted in adding "finishing touches to outfits."
Her main aim was to be involved in fresh flowers but because of a "problem with water" she decided to switch to silk floral instead.
Hari Bol Shopping Plaza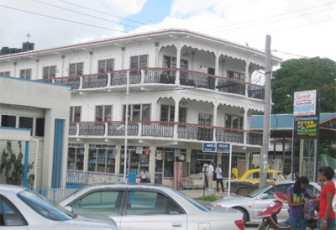 Tulla Persaud Udit, owner of Hari Bol Shopping Plaza at Pitt Street, NA told this newspaper that "although business is slow it would still continue because persons still have to earn a living."
They would not make as much as they used to and according to him, more businesses are being established or expanded in the town through "cheap loans."
He observed that many persons are returning home from abroad and investing in businesses. "A lot of foreign money is being spent… I know a lot of foreigners who come back and invest here. They are putting up big houses and business places."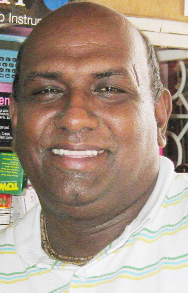 Apart from the bridge affecting businesses, Udit said there is big competition from the Chinese Nationals who are establishing stores around the town. He also learnt that they are being given a lot of concessions.
According to him, the Chinese can afford to sell their goods cheaper because they source them directly from the manufacturers.
He too lamented that "it is expensive to travel on the bridge so we have lost most of our West Berbice customers. Plus if they come with their own vehicle it would cost $2,200 for cars to cross and $4,000 for 4X4s. That money would take them to Georgetown and bring them back…"
He noticed that NA "as a town has not had any development over the years. We need proper roads and want the municipality to look at the garbage collection and the drains."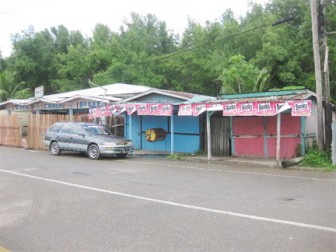 Further, he said, "… with heavy rains a lot of stores are flooded and that is very painful for business."
People are not encouraged to visit the town because "of the condition of the streets and vending all over on the pave."
He emphasized that NA is the second largest town and it does not have any form of attraction for visitors. "If people leave Georgetown to come up here, what is there for them?"
In terms of employment, he said there is the sugar industry while the "bauxite is gone. Now that CGX (oil exploration) is coming on stream I hope that things would improve. We would be able to create some employment…"
He does not see the need for a deep water harbour because Berbicians are not doing big businesses.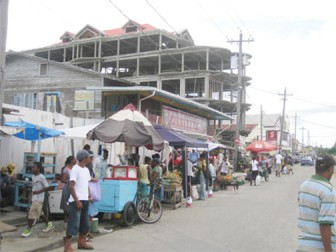 With regards to the location of the bridge, Udit who resides on the Corentyne does not feel that it has a negative impact on business. In fact, he said "the location is good for me."
All-in-all, he pointed out that the bridge is a great asset to Berbice and has resulted in a lot of progress.
He noted that "it was a pain to use the ferry. You don't have to worry about leaving your homes around 3 and 4 'o clock in the morning to get the boat. Sometimes when you get to the stelling the boat is not there… then you would get back home late at nights."
Bridge crossing
President of the Berbice Chamber of Commerce and Development Associa-tion, Gyandat Marray feels that the high cost of crossing the bridge has affected some types of businesses especially stores, hotels, restaurants and gas stations.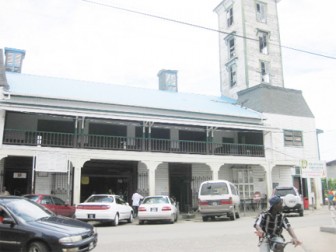 "Persons from West Berbice used to pay $120 return fare to cross with the boat but now they have to pay $600 just to cross with the bridge,"
he said. "That is too expensive and the residents prefer to stay on that side and do their business and go to Georgetown."
The chambers in Berbice had come together and held a meeting with the authorities for the bridge and had gotten them to lower the cost of the larger class of vehicles.
He said they had written to the authorities a few months ago to facilitate them for another meeting to discuss the toll and other issues. So far, there has been no response.
Marray feels that the toll for the small class of vehicles should be lowered as well to give everyone a chance to travel on the bridge as they like.
Faizal Ally, Chief Executive Officer of Ally's General Store at Main & Cooper's Lane is of the view that the bridge has helped to improve business to some extent.
Ally who operates a chain of stores in Berbice says too that it provides easy access and helps to save time. However, while business is ok for him, "it is not to the extreme of being good."
He is aware of the competition in the open market and said businesspersons have to be sharper.
With regards to security, Ally said the town is "ok but it can do better. Security is always an issue now with all of the activities due to the bridge. Too many youths are liming; maybe they don't want to work and are getting into trouble."
He observed too that generally the town can do better if persons pool their resources and put easy and simply laid-out systems in place.
The simple remedy as he puts it is to, "See something, say something and do something or stop complaining."
Prominent resident, Norman Semple; retired manager of Images Diagnostic Centre told this newspaper that "despite the fact that we were disappointed with the location of bridge there is still development taking place [in NA] especially along Main Street."
He observed too that the "East Bank of Berbice is developing and more people are occupying houses there. If the bridge was built in that area it would have been more developed though."
He said too that the town is showing signs of development.
Semple, who also served as past president of the BCCDA said "when Stanleytown was laid down the streets were very narrow… The streets around the town are in a bad condition; some are being fixed but they are not being maintained."
He too was concerned about the garbage problems in the town and said it was disappointing that people are still dumping.
He is aware of the poor collection of rates and taxes and that "it is not enough to take care of the town as it ought to."
But, he said "that is not an excuse; home owners need to upkeep the front of their homes. They should have more pride in their surrounding and keep it clean." He has "concreted the front of my yard and I pay $1,000 every month to clear the parapet…"
Industrial site
Semple feels that an "industrial site should have been in the town again," noting that there was an opportunity for "development that would have been an ideal site."
Semple recalled that two factories were on the site; one that assembled Brazilian-made bicycles and the other was the Ameerally Furniture factory. The School of the Nations is now occupying the spot.
He recalled that "the industrial site could not continue because the town council was not in favour of having it there."
The site has been moved to Belvedere but Semple pointed out that, "I don't hold much hope of that site. The whole question of an industrial site is that it produces items for the export market… That was promoted by the United Nations…"
He recalled that locally businesspersons "were afforded tax exemptions and were able to get a break into the markets."
He said this required that they have proper access to transport their products and that most of the industrial sites were established near to the ports.
He also observed that major businesses such as Gafoor's and Toolsie Persaud Ltd. have been "established close to the Canje Creek."
Chairman of Region Six, Zulfikar Mustapha had accused the TC of neglecting the town because of a failure to give the government a plot of land for the establishment of the industrial site.
He had told this newspaper, "It seems as though they have no interest in the town because they wanted the region to purchase the land when they [TC] would have been collecting the revenue."
Marray had said that for the town to be developed economically more industries would have to be established to help in the creation of more jobs.
He said too that "the performance of the town council is poor. It can do more to assist businesses like enforcing regulations and keeping the town clean. They should also assist in providing land to persons who want to invest."
Mohamed Haniff, Imam (leader) of the NA Mosque, feels that "the infrastructure of the town has deteriorated immensely over a 25-year period."
He had observed too that, "The services that the town council offered were better before… The conditions now are very atrocious. There is hardly any routine garbage collection."
He said too that the entire drainage system needs to be re-examined.
The Imam had also felt that crime has increased especially in some of the depressed communities like Angoy's Avenue.
A senior police officer in Berbice had told this newspaper though that overall, the crime rate has been reduced.
Mustapha had told this newspaper that the regional administration was undergoing developmental work in the town especially Angoy's Avenue where "a brand new health centre" was being constructed. The region was also assisting with drainage and road works in other areas. According to the mayor, Claude Henry, the council has been doing some work, including maintaining the streets and structures and collecting garbage with the limited resources. He also noted that revenues collected were not enough.
Further, he said that the rates and taxes collected for the town has not been increased since 1975 and while valuation was done it is still waiting to be approved by the president.
Among the many other businesses operating in the town are hotels, restaurants and fast food outlets, supermarkets, boutiques and hardware, cell phone and general stores.
Around the Web