The National Insurance Scheme (NIS) will pay all monies owed to Ronald Collins, the former sugar worker it declared dead after a mix up.
In an invited comment, Derek Rodney, Assistant General Manager, admitted that the NIS had mistakenly informed Collins that he was listed as deceased in its database. However, he added that after the situation was resolved, Collins was informed he would have been paid on Friday of this week.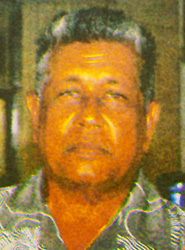 He further added that a phone call was made to Collins on Monday, informing him that due to the nature of payment and because his benefits require a pension voucher, that this will be made available to him on Friday as stipulated for old age pension payments. He reiterated that the incident was a system error and assured that Collins will receive his payment tomorrow.
Collins, 61, who worked 40 years at Blairmont Estate, stated that his plight began two days after his 60th birthday in April of last year, when he visited the Fort Wellington, Berbice NIS office to apply for old age pension. He said he was told that he was listed as dead in the company's system.
After being advised to visit the main NIS branch in Georgetown to see how best he could have the matter settled, Collins said he kept getting "the royal push around." He later approached the Guyana Agricultural & General Workers Union (GAWU) and with the help of their NIS representative, Dereck Thakur, an investigation revealed that two persons were listed with the same NIS number as him. It also found that there was another Ronald Collins, who is deceased and whose wife now receives death benefits.
Around the Web