Corentyne farmer Bernard Matheson, who was found dismembered on Monday, had been arrested but later released this year in connection with missing fisherman Ringo Hassan Bidasy.
Bidasy's bloated body was found in February of this year in a pond at Philippi, Corentyne, West Coast Berbice.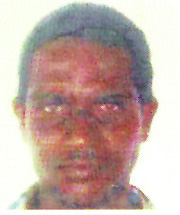 According to Charles Matheson, after the man's body was found in the pond, his son was arrested, but after a post-mortem examination was performed on the body, the younger Matheson was released. The senior Matheson said he had not then and still has no idea why his son was arrested, as he knows of no connection between the two men. Bidasy's was found two days after he went missing. His relatives said he had left early on February 21 to go fishing.
The younger Matheson's dismembered body was found one day after he went missing.
Investigations are continuing into the matter.
Around the Web