APNU's presidential candidate David Granger this morning called for an independent and impartial inquiry to probe the alleged links between senior policemen and drug lords, saying that the police cannot be depended on to investigate themselves.
Speaking at a press briefing, Granger said that his party intends to put pressure on the PPP/C administration until they conduct the investigation saying that in the past such pressure has worked.
"We will keep the pressure up. There is no way we can go into the election with this type of police force. It is rotten and I think that the level of criminality is eventually going to result in a much higher level of criminality not only in the police force but the country as a whole," he said.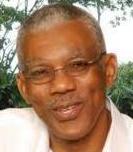 He said if the PPP/C administration resists attempts for such an inquiry the APNU will explore other opportunities including contacting international organizations and the donor community.
During the briefing, Granger also called for the immediate interdiction from duty of all officers alleged to have illegal relations with narco-traffickers, the immediate implementation of the recommendations of the Disciplined Forces Commission and the introduction of a Security Sector Reform Action Plan in order to reform the Police Force.
Police yesterday confirmed that several members are under investigation as a result of allegations of ties between them and the drug trade sourced to Assistant Commissioner Steve Merai. Police said investigations into the allegations were handed over to the Assistant Commissioner of 'Law Enforcement' Seelall Persaud and that Merai had been asked to provide any evidence he has against the officers and other ranks concerned and their associates, "but has not yet done so."
Granger, however, argued that it is problematic when the police investigate themselves. "The police cannot be depended on to defend themselves. This is  what happened with the Office of Professional Responsibility  and this what happened with the Police Complaints Authority , in both cases the complaints go back to the Office of the Commissioner of Police [and] I think that is where the problems reside, " Granger said.   According to him, "If the police are asked to investigate themselves, we will get these answers, and that is what we've been getting for the last 19 years."
Around the Web