Government's ramped up support to farmers under Phase Two of the Grow More Food campaign will not solve all the problems in agriculture but hopefully make the sector more resilient to challenges, Agriculture Minister Robert Persaud has said.
"There are many problems. The Grow More Food Campaign isn't the end all. It's not intended to be the thing that will solve all the problems in agriculture. The problems of agriculture will remain," said Persaud in an interview with Stabroek News. He said that they hope that in the long run, through the interventions, the sector will become much more resilient to the challenges faced by agriculture. "We're not going to fool ourselves that we've solved all the problems and can solve all the problems through the Grow More Food campaign. It is giving impetus and giving support as much as we can," he said.
Phase Two of the campaign was publicly launched at the Square of the Revolution yesterday with a few hundred farmers in attendance. Under the new phase, government will ramp up support to farmers and plans to distribute cheap fertilizer to all farmers including rice and private cane farmers, chicks to poultry rearers, breeding animals to pig, goat and sheep breeders and 14,000 straws of semen to cattle farmers.  There will be other types of support.
Head of the New Guyana Marketing Corporation, Nizam Hassan said at the launching that, as a result of climate change, in the second stage of the campaign farmers are being encouraged to grow food in a "climate smart" way for example utilizing drip irrigation, greenhouses, and planting on higher ground if the area is prone to flooding.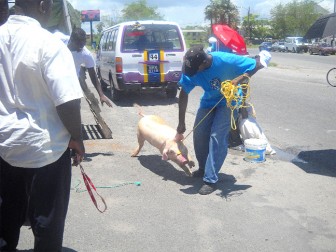 Persaud, also at the launching, said that in this new phase they want to highlight the need to take a climate smart approach to food production "because we cannot do agriculture in the way and the manner we have done it traditionally if we have new and emerging constraints."
Fertilizer
In Phase Two, he said, there are various components of support and every single farmer will be given a quantity of fertilizer as well as access to it at a cheaper price.  Seeds as well as other planting material for fruits and vegetables will be provided. Support to livestock farmers will see poultry farmers given broilers within four to five weeks once they have pens, 14 000 straws of semen will be distributed to cattle farmers to improve the genetics of their livestock and breeding animals will be provided to goat, sheep and pig farmers. Persaud said that there is also a plan for the fisherfolk. "This is a very comprehensive programme and…this programme will continue across the country," Persaud said.
He added that they are also looking at working with large-scale farmers who are interested in developing thousands of acres. Since Phase One, he said, there has been "a rush of investment" with investors from as far as India, North America, Brazil and the Caribbean. Large scale rice cultivation is already being done in the Rupununi Savannah and an investor has spent over US$2M for a large-scale soya bean project and the investor is also examining the cattle industry, Persaud said.
New technologies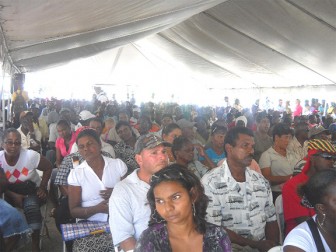 Meantime, in his interview with Stabroek News, the minister said that in this second phase, training will be intensified, new technologies introduced and financing for farmers will come on stream under a IPED/GBTI scheme. Under this, grants and concessional loans will be made available to farmers. Linking agriculture with other sectors of the economy is also key.
In terms of exports, the Minister said that they will be looking at non-traditional markets and there are ongoing discussions on supplying the US. CARICOM markets are the "first port of call" while North America, Brazil, and Suriname are also being eyed. A group out of Trinidad is currently modifying the GMC packaging plant so they can do some value-added, Persaud said. But, he noted that CARICOM markets have been difficult to penetrate. "It's a struggle and the struggle continues," the minister said.
But now they are also going directly to buyers and inviting them to invest. "Instead of our exporters exporting, we're trying a new approach whereby the people who are buying the stuff, to get them to invest in Guyana and to be part of the operation so it's their produce they're exporting back. So they will have to deal with all the hiccups because a lot of it is sometime where people try to ring fence their market…" the minister explained. He said that there have been at least two projects on which information will be released soon.
In relation to farmers being able to produce to international requirements, Persaud pointed to clusters formed. "It's not a one day event, it's not a year event what we're trying to do with agriculture it takes a generation but we're trying to accelerate that," he said.
Critics have argued that the PPP/C has had 19 years to implement these programmes but that they are still undeveloped.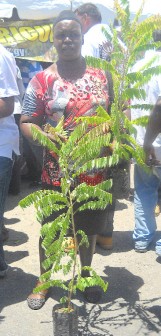 In terms of large scale investments, he said that a number of MOUs and investment agreements have been signed. The soya project in the Rupununi is being done by Santa Fe and they have done soil surveys, mapping and hired the management team, he said.  In addition, there have been a number of proposals in terms of palm oil, fruits and vegetables and so on, Persaud said.
In terms of further processing, Persaud said that a lot of this is linked to affordable power. "All what we're doing, we're preparing the groundwork for volume so that an agro-processing industry kicks in with the advent of a hydro…agriculture alone cannot succeed if we focus alone on the issues of agriculture, you need energy, you need the logistics right, shipping and transport we have to fix that, you need the issues of education right…for agriculture to succeed it is built on other pillars."
"We'll never have an agro-processing industry with the current state and cost of electricity in Guyana. Hydro is the only way," the minister said. The Amaila Falls hydropower project will change the landscape of agriculture in Guyana, he said. He said that with affordable power, big brands can come here and operate. He said that food company, Goya wanted to come but couldn't because of energy. "Goya has indicated that they want to come and do beans and vegetables and everything here but they wouldn't come because of the cost of energy," he said.
Meanwhile, coming out of phase one, training will be intensified. "The main experience we've learned is that we have to do much more training, we have to be much more engaged with individual farmers and ensure that we have success where there's success," the minister said. A point has been reached where projects and resources are matured and farmers are calling for this type of intervention, he said.
President Bharrat Jagdeo, at the launching lauded Persaud and his ministry. He said that the government will continue to support the sector. Jagdeo also noted that he has been pushing for the development of agriculture at CARICOM for many years but very few countries have gone along this route.
A number of farmers received seeds, pigs, feed, seedlings and other materials at the launching at which PPP Presidential Candidate Donald Ramotar was present and invited to speak. Persons who spoke with Stabroek News were happy at the items they collected. For some, it was the first time they had been a part of the Grow More Food campaign while others had benefited before. A number of those at the launching were not farmers.
Around the Web