AFC Presidential Candidate Khemraj Ramjattan yesterday said that alleged links between senior policemen and drug lords is an extremely dangerous development that warrants the resignation of the Minister of Home Affairs, the Commissioner of Police and all ranks involved.
He said that public satisfaction in this matter could only be achieved though international intervention, involving participation from CARICOM, Scotland Yard or the US Drug Enforcement Agency (DEA).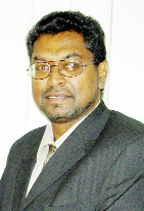 According to Ramjattan, the recent revelations in the press call for the resignation of Home Minister Clement Rohee. He told a news conference that the concept of ministerial responsibility in a normal democracy demands that there is a good performance in that ministry and he said Rohee's absolute failings to ensure that the police force do its job, which is to provide service and protection and abide by the law, "leaves so much to be desired."
He said too that there is no doubt that the Minister has failed "and for that alone… apart from all the other failings with all the jailbreaks that come under his portfolio over the years, demands that he resigns and if he does not want to resign it is the moral thing in accordance with the convention of ministerial responsibility, he ought to be dismissed by the president."
Ramjattan noted cases where ministers and other officials from various parts of the world "resigned for less than what we have here." He said that policemen embroiled in this matter should tender their resignation as well as Commissioner Henry Greene.
Police yesterday confirmed that several members are under investigation as a result of allegations of ties between them and the drug trade sourced to Assistant Commissioner Steve Merai. Police said investigations into the allegations were handed over to the Assistant Commissioner of 'Law Enforcement' Seelall Persaud and that Merai had been asked to provide any evidence he has against the officers and other ranks concerned and their associates, "but has not yet done so."
Saying he believed the information released thus far in the press to be credible, Ramjattan said the situation has been existent for some time but there was no evidence.
"And when the evidence is coming from an Assistant Commissioner of police it substantiates what we all know and vindicates what we have been feeling about with regards to what is happening within the force and the fact that some of these policemen do have fancy motor cars and all of that vindicates that accuracy about what is being alleged here," he stressed.
He said it does not take much to see that senior elements of the force are corrupt, while adding that the now retired Assistant Commissioner Paul Slowe had attempted to expose this situation. However, he said Slowe's utterances about corruption were denied by the government and Minister Rohee.
He said that it was claimed that those utterances were without any authenticity or accuracy but the public knows them to be true. "This is a major, major development which demands inquiry, which demands dismissals, demands resignations right up to the ministry," he said.
He also argued that a commission of inquiry into the allegations is urgently needed and said it should be conducted by an international team of experts "who would know of these matters." He said too that such experts should provide recommendations regarding the future of the police force. He added that the force's Office of Professional Responsibility (OPR) should not be part of such an inquiry, since "those officers are tainted with a bias in my view."
"I would feel confident with that quality of intervention coming from outside and also because of their expertise and experience to come up with better recommendations than our team of officers," he said. He added that he believes that members of the administration are involved in drug-related activities either directly or indirectly.
"I am absolutely certain that they are involved  … they are also involved by turning a blind eye. By omission to act you are also condoning what has happened. If you turn a blind eye as the minister, knowing that the thing is happening under you nose, you are by your omission responsible," he said.
He said that during talks with members of the US State Department, information regarding drug running has been passed to the government but the administration "has been telling the people that they have not been getting any information."
Ramjattan yesterday also registered the party's concern about the commissioner's term being extended, although he has reached the age of retirement. "It just goes to show that there is absolute loyalty with that commissioner. They feel safe with him. And that is what I am saying here, that commissioner also must go," he added.
Around the Web