Despite the fact that the public service minimum wage is $32,207, sweepers/cleaners of schools across Guyana only receive $15,800 per month and they are not paid during any of the school holiday breaks.
The AFC yesterday, at its weekly press conference, highlighted the issue, while saying workers should be immediately classified as public servants, paid a livable wage and accorded the necessary benefits.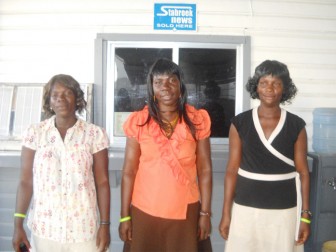 Marla James, a custodian at the Hopetown Nursery school and representative of Janitors of Region 5, told Stabroek News that she had been employed at the school for ten years and had continuously petitioned the Regional Democratic Council seeking answers as to why she and other custodians are paid only half of the public service minimum wage.
She said that she was shown a document, sent by the Ministry of Finance to the Council, which stated: "Budget agencies are reminded that chart of accounts 6111 to 6115 must correspond directly to the categorization used by the Public Service Ministry. Only employees who are appointed to the permanent positions by the Public and Police Service Commission, Teaching Service Commission, or defence board should be included in these categories. All other employees should be classified as contracted or temporary under chart of Accounts 6116 and 6117. Please be reminded that sweepers/cleaners for schools are contracted service providers and should be reflected under chart of Accounts 6284."
Mariam Fordyce, a janitor, opined that the directive was given as a "government ploy," since it supersedes any authority the Council may have over payment of janitors, thus forcing them to not employ janitors but to contract them temporarily—a process that would deny sweepers/cleaners across the country from receiving minimum wage and other benefits received by public servants.
The janitorial workers also noted that they were all initially employed by the Ministry of Education, a Government of Guyana body, through respective head teachers. Therefore, they say the question of why they are denied a public servant's wage requires urgent clarification from the government officials responsible. The Region Four Council, after years of negotiations, they also noted, recently came to an agreement with government that custodians of that region receive minimum wage. As a result, the janitors are asking why those in the other nine regions are being sidelined.
Around the Web