The battered body of a 64-year-old security guard was yesterday morning found at his work site at Providence, East Bank Demerara.
Dead is Albouystown resident Mohammed Haniff who was an employee of Dynamics Security Services. He was apparently struck repeatedly in the head and about the upper body by persons who broke into a container and stole items including a generator. A piece of iron suspected to be the murder weapon was found near the body.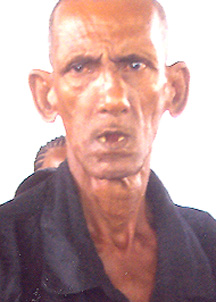 Haniff's employer Randolph Perreira told reporters at the scene that he checked the location thrice on Tuesday night, the last time being just after midnight. According to him, all appeared well with Haniff who was found sitting on a machine near the shed on each occasion.
On the third visit he said, he and Haniff chatted for a few minutes before he left. Perreira recalled that just before 7 am he received a telephone call informing him that a container at the site had been broken into and the guard was missing.
He said that when he arrived at the scene about twenty minutes later, he and other workers began searching.  According to Perreira, the grass had been disturbed and a section of the fence was "trampled down". He said that they searched the rest of the location where Mines Services Limited is constructing a bond. "While checking there was evidence of a set a track marks like people were in and out of de back", he recalled.
He said that he and the others then returned to the area where the shed, the machine and two containers used for storage were. He said he advised that they check near the drain. It was while doing so that one of his drivers said "man come see wha going on. Watch yuh guard lay down there".
Perreira said that when he looked, Haniff, with his head bloodied and with blood oozing from his mouth and nose, was lying under the shed behind a stack of cement. He said that initially they had contacted the police about the break and enter and the missing guard but there was no response.
However when police were informed of the discovery of the body, ranks rushed over.
He said that Haniff worked with his security firm on and off for about a year. He said that the man consumed alcohol a lot and this was the reason why he was on and off the job. Perreira said that of recent he hasn't been having any problems with Haniff.
He said that one of the containers was broken into last Friday and the thieves made off with a chain saw, an electric saw and a spanner set. He said he could not say what was missing,  adding that the time keeper was preparing an inventory.
Perreira described Haniff as a hard-working man who was very fit in spite of his age. "He is a fit old man" he said.
Meanwhile when Stabroek News arrived at the scene, undertakers from Lyken's Funeral Home were removing the body amidst loud wails from relatives.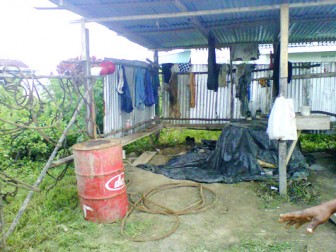 According to Haniff's niece Anastasia Gordon, it was Perreira who called her mother and informed her of the tragedy.
She said that she was told that her uncle's hand was broken and a nearby container was broken into. She said that it is suspected that it was those perpetrators who killed him.
She said after receiving the call, she travelled to the scene. Police were there already taking fingerprints and had also covered the body, she added.
Gordon said that they were told that Perreira was transferred to that site from Eccles – Tuesday being his first night, after he complained that where he was, was too lonely. She said that on Sunday he told relatives that a container at the Providence site was broken into and items stolen.
According to Gordon it is unclear if the same persons were involved in both incidents. "I used to ask him if somebody come to do him anything wha he gon do because he old and he said that he would leave them to go with whatever they come for", the teary-eyed woman added.
She said that Haniff had no fixed place of abode and would stay at the homes of various relatives in Albouystown.
Upset relatives told this newspaper that they stood there for quite some time before police allowed them to see the body. They said that it was on their insistence that ranks allowed them a glimpse before it was removed by undertakers.
They said that Haniff's face was disfigured.
Over the years several security guards have been killed in similar fashion.
Last year Ronald Cato and Carl Bollers were found dead at their worksites. To date no one has been charged.
Cato's bound and battered body, clad only in his shorts was discovered by another worker on July 14 at Section `C' Enterprise where the Ministry of Housing is developing a housing Scheme.
The perpetrators stole batteries from several pieces of heavy-duty machinery which were at the location.
Days later on July 25, Bollers was brutally stabbed to death at the Mercy Wings Vocational Centre where he was stationed. The canteen there was broken into and a quantity of confectionary stolen.
Around the Web