A $152M contract to repair and upgrade 4.5 kilometres of road in Enmore- Hope, Region Four was inked yesterday.
The project is being funded by the Guyana Govern-ment and the Caribbean Development Bank.
Courtney Benn Construction company will repair 11 roads under the contract funded through the Community Road Improvement Programme (CRIP) project. Government has implemented the US$18M CRIP under which US$13M will be spent to rehabilitate and construct 204 roads in 12 Neighbourhood Democratic Councils (NDCs), a Government Information Agency (GINA) report said. Rehabilitation of NDC buildings and drainage works are also covered under the project.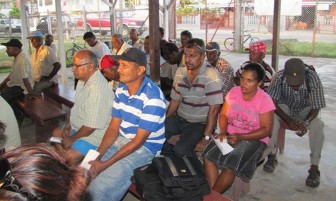 The roads earmarked for upgrade under the new contract include Nursery School Street and the first Cross Street in Blossom Scheme Enmore, Joe Street and the Community Centre Street. The streets will be upgraded to either DSBT or asphalt concrete.
The GINA report quoted Minister of Housing and Water Irfaan Ali as saying that the ministry held many community meetings to garner the input of the residents on this project. He urged that they continue playing a part in the process to ensure that quality and standards are maintained in the project's realization. He urged them to help ensure that government and the community get value for their money.
"It is you the residents that are the primary beneficiaries of these roads…it is in your interest that you work with the NDC so that quality is not compromised at any stage," he said, according to GINA.
The public signing of the contract is to ensure that the community remains continuously involved in process and the development of the      community, Ali said. He urged the residents to ensure the upkeep and maintenance of the roads being upgraded. "At the end of the day it is our collective action or inaction that will determine the success and viability of the project," GINA quoted him as saying.
In addition to the road improvement another component of the CRIP project is the rehabilitation of the NDC building under which the Enmore-Hope community has benefitted.
GINA said that Regions Three, Four, Five and Six are beneficiaries of CRIP. It recalled that a contract worth $188M was signed to facilitate upgrading of 14 old housing scheme roads in Bath, Region Five that will benefit 13,000 residents while another 14 roads in the region, between the areas of Rosignol to Zeelust are being rehabilitated under a $131M contract. A contract valued $163M was also signed to rehabilitated 23 roads in the Tuschen/Uitvlugt NDC for the benefit of 35,000 residents, GINA said.
Around the Web