The Mackenzie Sports Club (MSC) will soon take on an improved look with the signing of a $5M agreement with Guyana Telephone and Telegraph Company (GT&T) yesterday.
The company's Chief Executive Officer Yog Mahadeo was in the community for the signing ceremony and to honour some of Linden's top students at this year's National Grade Six examinations.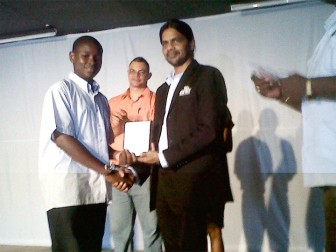 The MSC has already begun to take on the new look with the posting of a large GT&T promotional sign board and the company's signature blue painting on the exterior of the facility and sections of the building's interior. According to the agreement, work  will  be done to the front, back wall, gate, main stand, basketball court, fence ,VIP stand the referee/coach benches among other areas in the Mackenzie Sports Club. The works would range from repainting, to repairs and service messages.
Mahadeo said that GT&T is keen about the development of area as it is to any other community in the country. He was impressed by the support of Linden residents for the recently concluded fast ball competition, which further motivated the company to do more for the local residents.  MSC's Junior Barrat signed on behalf of the sports club.
The GT&T officials also took time to honour six of the top performers in this year's Grade six examination, among whom was Terron Alleyne, who topped the country. The presentation was done at a simple ceremony and the Linden Concert Hall and School amidst a cultural programme of African drumming, dancing, poetry and singing.
Mahadeo spoke at length about GT&T's commitment to the development of Guyana through education. In his challenge to teachers, parents and students he emphasised that in order to achieve victory, one should at all times remember some key words: vision, integrity, commitment, trust, organisation, respect and yearning.
Present to receive their awards of plaques and vouchers were Alleyne, Teryka Mohabir and Carol Hopkinson. GT&T has committed to supporting Alleyne in his academic pursuits throughout high school and even into university, if his strong academic performance continues.
Regional Chairman Mortimer, who is also the chairman of the Regional Education Committee, and officials from the department of Education Region were present at the ceremony. Mingo alluded to efforts being made through the Office of the Head of the Presidential Secretariat Dr Roger Luncheon to have a bus available to transport students who were awarded places at secondary schools in Georgetown. This has been a main concern to parents over the years and has resulted in children being transferred to the Mackenzie High School in Linden.
Around the Web