Jamaican entertainer Vybz Kartel left the Hits and Jams (HJ) Entertainment promoters, his team and fans confused after he walked off a Caribbean Airlines plane, moments before take-off with no explanation for his actions.
Kartel, due to perform along with Mavado at last night's Jamzone regional night, had not arrived here up to press time.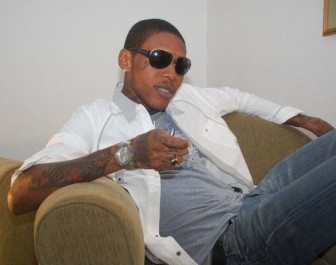 HJ CEO Kerwin Bollers, during a press conference yesterday, said that they received a call around 1:30pm with information that the artiste walked off the flight. "We are still trying to find out what transpired…we are trying to get it rectified," Bollers stated.
He said that it would be difficult to get a replacement and noted that the show would go on, with or without Kartel.
"We haven't received a notification that he doesn't want to come," he further stated, adding that Kartel has since been ignoring telephone calls and so the team has attempted to contact him via e-mail. Bollers said that he has since received one e-mail from the singer but with no explanation.
Kartel's security and band were said to be here, with his Head of Security, Rick, present at the briefing. Rick, who has been working with the artiste for 14 years, said he believed in the entertainer and believed that he would have been here last night. He added that he had had contact with Kartel up to the time of boarding and found it shocking that he walked off.
"We've lost direct contact with him," he said. He further stated that anywhere the team fly to, Kartel always show up. When asked about the two previous instances in Guyana where Kartel was a no-show, the head of security pointed out that he only became of these occasions yesterday.
Bollers said that though a lot of rumours have been spreading, nothing has been confirmed. "We've been hearing all different reasons but none have been confirmed by Kartel or his team," the promoter noted.
One rumour, Bollers said, was that Kartel had been bitten by his pit-bull and went directly to the hospital after leaving the aircraft. Rumours also had it that Kartel was feeling claustrophobic on the plane and decided to leave. None of these, Bollers reiterated, were confirmed.
Bollers went on to say that the artiste was scheduled to leave Jamaica on Wednesday but turned up late at the airport and as a result, changed his flight. Also, Kartel decided to add a new member to his team and willingly paid to have the member here.
"It's very confusing to put the puzzle together… who knows what's gonna happen? We gonna try, but there's no guarantee," Bollers said.
Persons who are interested can have a full refund, provided they do not attend the show tonight. They can return their ticket to Ashmins Trading of Glamour Boutique on Monday and request a refund.
Around the Web