Harold Rachpaul, 84, owner of the Rachpaul's Drugstore on Robb Street, Georgetown, was found dead, gagged and bound in his home early yesterday morning.
Rachpaul's body was discovered at the Lot 75 Robb Street, Lacytown residence by his eldest son Leonard and his son Vincent, after they arrived to open shop near 8am.
Leonard told Stabroek News minutes after viewing the body that he was found wrapped in two sheets, which were held together by metallic cord. He said his father's hands were also tied in front of him.
Leonard, well-known as "Lenny," said that it was his son, Vincent, who went in first and saw his grandfather dead. Leonard eventually untied the elderly man as he wanted to see if he was still alive. But he was already dead.
A vault in the pharmacy was open and money stored there was missing. Leonard said he was not sure what else was missing, but he felt the murderer/s might have forced his father to open the vault and from all indications they spent some time in the pharmacy.
It is believed that the perpetrator/s gained entry into the well-enclosed premises of the storeowner by entering the neighbouring yard of GT World Internet Café and scaling the back fence into the yard.
According to Leonard, the incident might have occurred sometime during the night, after he and Vincent left for the day. He explained that his father has three dogs, one of which is pregnant and has been experiencing complications. As a result, he would usually lock them up, so as to avoid a miscarriage. But on Thursday night, he told Leonard that since the place was so hot, he should loose them.
Leonard added that he believes that after he left, his father heard the dogs barking and went out to lock them up, since they were making too much noise. He thinks that it was after Rachpaul had tied the dogs that the perpetrator/s pounced on him, led him to his room, and forced him to open the vault, where they cleaned out all his money, and afterwards bound and gagged him.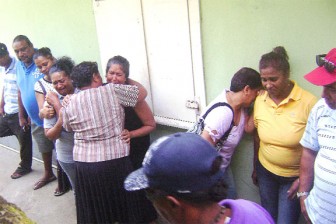 Rachpaul's niece Denise, however, believed that the man might have been attacked in the morning, as she stated that her uncle would usually go into the yard at around 6am, tie the dogs and would proceed to clean the yard. She suspected that he was attacked as he was cleaning the yard. She noted that persons nearby heard no sounds nor did they see anything strange.
Very kind
Rachpaul was a respected and well-known figure in the neighbourhood, and the pharmacy is a hub for workers at businesses along Robb Street.
After news of his body being discovered spread, a large crowd of shocked onlookers congregated in front of the popular pharmacy. Elderly bystanders were heard saying that he was "the poor people helper" and one regular customer divulged that on Fridays he would gather his coins and share with the less fortunate. The woman tearfully stated that Rachpaul was a very good man, "very kind and he was like a [fixture] at the side counter, labelling medication. He always had a kind word to tell me, and encouraged me to take my iron tablets to develop my baby." She also divulged that the store owner had a good sense of humour, and she recalled that just Monday evening, while she was there, a man rushed into the store and declared he wanted to be sold right away because he had a taxi waiting on him, even though there were several other persons in the store.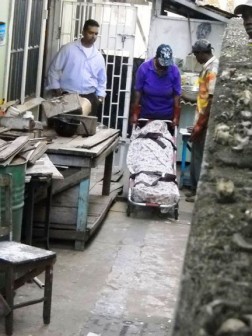 "Without missing a beat Mr Rachpaul raised his head and told the man, 'You see all these people, they have aeroplanes waiting on them,' much to the amusement of everyone in the store. The thing about Mr Rachpaul is that he never seemed fussed. He was always calm, regardless of how packed the store was or whether everyone was attempting to get sold at the same time," she stated.
Another woman, from the nearby Rayon House of Fashion, also praised the man's good deeds and gentle and kind manner. She along with almost everyone else in the neighbourhood expressed shock at his death and some rage at the way in which he left the world.
As the news of Rachpaul's death spread online, Guyanese overseas who knew him, also shared their thoughts on who he was and the manner of his death.
"My condolences to the family! I remember the tall always smiling gentleman who every time told us to stay in school. As a high school freshman my friends Festus, Maurice and I used to buy candy (sweetie) at that drugstore when we were at Maurice's home a few doors away," one reader, identified as Ankoko, commented on the Stabroek News website.
Another reader, identified as Michael, stated that as a child living just two houses away between the late 70s and early 80s, he knew Rachpaul and his wife very well. "We spent a lot of time at their home… very, very nice man indeed! So sad that his life had to end this way," he said.
Another, named Collin, stated that Rachpaul was "one of the most quiet and soft spoken gentlemen I came across, and always had a smile!"
According to Rachpaul's son-in-law, Roger Phillips, he was a peaceful churchgoing man. He had been a member of the Burns Memorial Church. He revealed that the storeowner lived alone, as his wife resides in the United States. Rachpaul's wife was expected to be flying in to Guyana sometime last night.
Around the Web