Shilpa Shetty will be the headlining act of the Jamzone Summer Break's first ever Bollywood Night, slated for this evening at the Providence Stadium.
The Indian Filmy actress noted that this is her first time in Guyana, which should be enough reason for people to come out to the show. She added that she was very honoured to perform here and intends to show the Guyanese audience just what Bollywood is about.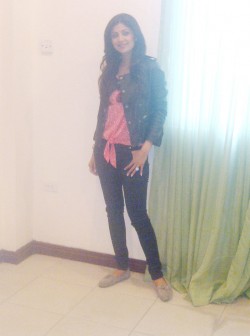 Shetty explained that it was an old friend of hers who approached her and mentioned Guyana's interest in having her. "I asked her how many Bollywood actors have been to Guyana before and she said few, so that was enough reason for me to come," she added.
The actress said that though she's had little exposure to the Guyanese culture and even Guyana itself since her touchdown yesterday morning, from the little contact she's had with the people, she considered them to be very warm, loving, very sweet and hospitable. This, she added, says a lot about the people, and she added that the place has been very wonderful.
She shared that the highlight for her during a stage performance is the interaction with fans. "Interacting with the people is the best part of the show…it's overwhelming to know how many people love you," she gushed.
On a more serious note, Shetty emphasised that the youths of Guyana need to know that it is important to have the yearning to learn in life. "You have to know what you want to do… and be focused," she said.
The actress told the press conference that she is a college drop-out and added that she hated college but knew that she could strive in the entertainment industry. "It looks glamorous, but it's a lot of hard work… you have to be dedicated, focused and very hard-working… if you have those qualities, there's nothing you can't achieve," she said.
She added that although she will always be interested in movies, her priorities have since changed since she tied the knot recently. "I'm married now and for me, that's a full-time job," she said.
Shetty said she is a very normal individual when she's not on the set. "I sleep a lot…wake up late, look after the house and play with my dog on the beach," she stated.
Around the Web