The Guyana Power and Light (GPL) yesterday held the sod turning ceremony for a US$ US$38,963,861 substation on Mandela Avenue. The project will see the substation producing an additional 69.8 KV of electricity to supply to the Guyanese people.
The event was attended by Prime Minister Samuel Hinds,who is also the Minister responsible for the electricity sector.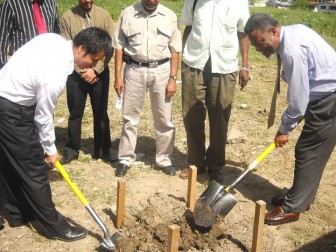 In his brief remarks, Hinds stated that the substation will play an integral role in meeting the electricity needs of the Guyanese people. He thanked the Chinese government and the contracting firm, China National Machinery Import and Export which  bid lowest on the project and which met all the necessary requirements when the consultation stage of the process was carried out.
Chinese Charge d' Affairs LI Qenfeng stated briefly that it was a pleasure of the Chinese to be in partnership with the Guyana Government in an event such as building of the new substation; one that would literally brighten the lives of the Guyanese people.
Project Director, Jin Huibao, in his remarks, said that the most critical phases of the project would be its beginning because of the technicality of running of cables using of wallaba posts compared to the steel posts used in China. He also pointed to the strategic planning of purchasing of equipment needed from China; noting that this is a process that can experience delay because of China's distance from here. He, however, stated that his firm looked forward to working with and bettering the lives of Guyanese in the area of electricity production.
The event ended with Prime Minister Samuel Hinds and the Charge d' Affairs performing the ceremonial turning of the sod at the proposed Mandela site.
Around the Web