With 'Gaza Emperor' Vybz Kartel a no-show, it was 'Gully God' Mavado who sated the thousands who flocked to the National Stadium for the Jamzone regional night mega-concert on Friday.
Mavado took the stage after 1:30am yesterday and was greeted by frenzied, screaming fans, who had been anxiously awaiting him during the brief intermission to prepare the stage for his performance.
Decked out in a denim suit, he bounced onto the stage and belted out his hit, 'I'm So Special.' His energy seemed to spread throughout the stadium, and particularly among excited female fans, as women of all shapes and sizes followed his instructions, whether it was to "hope and pray" or otherwise. He managed to sustain this atmosphere throughout his one-hour performance, with saw him go though popular songs like 'Gangsta Life,' 'Peppa' and 'On the Rock.'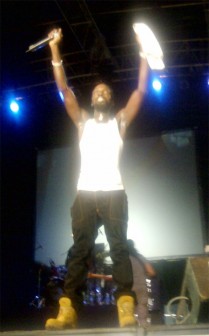 There were no complaints after he left the stage, although Kartel's absence was a talking point throughout the night.
The Jamaican dancehall artistes were supposed to co-headline what was expected to be the biggest dancehall experience in Guyana, until Kartel's inexplicably walked off his flight here minutes before take-off.
His fans clung to the hope that he would show up at the stadium for a surprise performance, and up to late Friday evening Hits and Jams Entertainment CEO Kerwin Bollers assured that the promoters were doing their best to have him in Guyana to perform.
However, their efforts were in vain and Kartel's absence drew jabs from other artistes, including local performer Jory. Jory, during his performance, said he respected Mavado more, adding, "Me nah respect Kartel no more because he disrespect my country."
"Some man work whole week to buy a jeans just to come to this show and you gon nah show," he said, while directing the DJ to drop another beat as he sang, "Me nah frighten Kartel or Mavado."
Although fans were constantly reminded of Kartel's apparent disrespect by DJ Ceon, Mavado and Jory, these remarks received a mixed feedback from the audience. However, by the end of the show, Mavado's performance resulted in a satisfied audience.
Among the local acts featured, Jory was a standout as was Natural Black, who had the task of being the lead-in for Mavado.
Natural Black did not disappoint and was greeted by enthusiastic screams and applause as he entertained the audience with many of his hit singles, such as 'Gideon Boots,' 'We Don't Play,' '9 to 5' and 'Far From Reality.' He created the right tempo at the event as the audience rocked to the sound of his deep, coarse voice.
The night was without any violence, although many experienced transportation woes trying to leave the stadium after the show as a result of the large attendance. For some drivers, it took approximately an hour before they were able to access an exit while the drive to Georgetown took an average of 45 minutes.
Around the Web