Three months have passed and investigators are no closer to determining who killed Industry, East Coast Deme-rara businessman Mark Kandhai and why.
Crime Chief Seelall Persaud told Stabroek News that there has been no arrest in the investigation of the murder, which occurred on May 21, in the 24-hour grocery store and liquor bar that Kandhai operated at his home. He said that police had prepared a file and sent it to the Director of Public Prosecu-tions (DPP) for advice. That file was returned, he said, with instructions for further investigations to be conducted. According to Persaud, the case file should be resent to the DPP sometime this week.
Meanwhile, a police source recently described the Kandhai killing as another cold case. Although the case bears similarity to previous "hits," it was pointed out to this newspaper that the police have gotten no leads.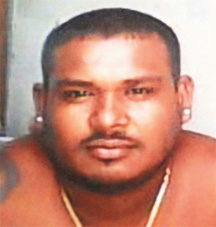 The source said that investigators pursued every angle but hit a dead end. According to the source, investigators "had ideas" about the motive behind the killing, but were unable to gather information to substantiate their theories. The source, however, insisted that while the case has hit a dead end, investigators are keeping their ears and eyes open for any new information that may surface.
It was hoped that footage from a surveillance camera would have picked up the identity of the shooter but according to the source, these hopes were short-lived, since the man had his cap pulled down over his face. According to the source, it would appear that the shooter was aware of the presence of the cameras.
Kandhai's wife, Shellon, was unavailable for comment.
At around 2.30 am, Kandhai was attending to a customer when he was shot dead. Based on the reports that were received, the 32-year-old father of six had turned his back to sell a customer when three gunshots shattered the early morning silence. Two of those shots, struck Kandhai. The customers seated outside the store fled to safety.
The lone gunman based on accounts, drew his gun from the open gate at the front of the store. The first bullet missed Kandhai and grazed a nearby sofa. The gunman fired again at a frightened Kandhai, who by this time was lying low on floor, in an apparent bit to escape. Two bullets were discharged in his direction, with one hitting him in the face. After ensuring the job had been completed, the gunman jumped into a waiting car. The badly-wounded Kandhai was rushed to Georgetown Hospital, where he died minutes after arrival.
A hit
An eyewitness had initially stated that he saw the car's licence plate, but later, when questioned by the police, the man could not recall what the numbers were. This was a further setback to the investigation as police were hoping to track down the car, which could have brought them one step closer to the killer.
Police were investigating possible links between this killing and that of another Industry businessman that had occurred some time before. Police had searched the Kandhai house in relation to that murder. However, they were unable to link the two cases.
Relatives had said that there is no doubt that it was a "hit," dismissing any suggestion that it was a robbery. They did not give an explanation for their conclusion.
Two days after the shooting, someone passed the house and threw a noxious substance at persons attending a wake. This frightened relatives but they could not come up with an explanation as to why this was done. The bottle, which appeared to contain alcohol laced with acid, was thrown from an open backed vehicle. Unknown persons had also called the home saying that they wanted the family dead. Relatives again could not give an explanation for this. The threats were reported to the police but it is unclear if attempts were made to trace the origin of the calls.
According to his relatives, Kandhai worked very hard to provide for his family. He opened his shop several years prior to his death and it quickly turned into a popular hangout spot.
Although Persaud had said that Kandhai had been charged with "trunking" and was known to the police, the dead man's wife, Shellon, dismissed this as mere "rumours."
She said that she had been with Kandhai since she was a teenager. She added that he had never been involved with the police and never had any issue with anyone. She also dismissed newspaper reports that the man was involved in drug trafficking, while noting that such statements could put her family at risk.
"What they are saying is wrong information… A person who doing that don't stay up till 2, 3 o'clock in de morning running their shop trying to catch customers," she had said, while adding that his family needed justice since its sole breadwinner was taken, leaving her and her children to fend for themselves.
Around the Web