Relatives of Indranie Tulsie called 'Sookie' who mysteriously disappeared from her Bath Settlement, West Coast Berbice home about two months ago are calling on the police to thoroughly investigate the woman's disappearance.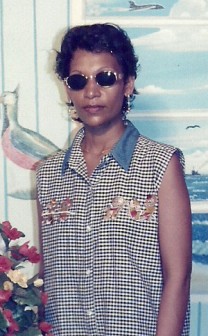 Indranie, 46, was last seen about two months ago. Her reputed husband of ten years has indicated that the woman went to Suriname but her relatives do not believe this is so as there is no evidence to suggest that the woman is in the neighbouring country. Indranie's brother, Jairaj Tulsie, yesterday told Stabroek News that it was only about two weeks ago that relatives learnt that the woman was missing.
He said he received a call at his Bush Lot, West Coast Berbice home from church members who attended the same church as Indranie. They were worried about his sister and wanted relatives to investigate her disappearance, Tulsie said. The man said when he contacted Indranie's husband, the man told him that she had left for Suriname.
Tulsie said the last time he spoke to his sister was about two months ago and she had given him no indication that she was leaving Guyana. He said that they have sent relatives to Suriname but there were no signs of the woman The brother said prior to living with her common-law husband his sister did indeed live in Suriname where she had borne two children. But she returned to Guyana without them and as far as he knows, she has had no contact with then. Relatives also do not know where in Suriname the children live and as such cannot contact them.
The worried man said what made him suspicious was the fact that the husband never indicated to relatives that Indranie had left nor did he report her disappearance to the police.
Since learning of her disappearance, Tulsi said, he has reported the matter to the Fort Wellington Police Station and the man was held and questioned on two occasions but later released. "But dem ain't go in deh house or nothing to see if she things dem still in there and we can't go in," the man lamented while stating that the police are not taking the investigation seriously.
He related that neighbours of the couple said they found Indranie's disappearance suspicious and the church members said just prior to her disappearance, the woman had attended church with her husband and all seemed well. So they were shocked when the man told them that she went to Suriname. The worried church members later decided to contact Indranie's relatives.
Tulsie said that he hopes the police would investigate the matter and they would eventually be able to know what has happened to his sister.
Around the Web