Police have identified and are searching for a suspect in the murder of pharmacist Harold Rachpaul.
A relative told Stabroek News that the police searched a home in Albuoys Street, Albuoystown but came up empty-handed.
They have also sought the suspect at a home in Tucville, where the mother of his child lives, but got no positive result.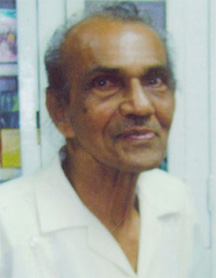 These leads, according to the relative, came about after a woman reported seeing the man exiting Rachpaul's yard at around 4am as she was on her way to the market early Friday morning. At the time, the woman related, the suspect was wearing a pair of short pants.
Rachpaul, 84, was the well-known owner of Rachpaul's Drugstore on Robb Street. Early Friday morning, his body was discovered beside his bed at his Lot 75 Robb Street home by Leonard and Leonard's son Vincent when they arrived at the house to open up shop. Rachpaul was gagged and bound.
Leonard said yesterday that a call was made to the suspect's phone by one of his relatives and the suspect called back and threatened the family.
An autopsy is scheduled to be performed on the body today, and his family has set Wednesday as the day for the funeral.
Around the Web