A Block 20 Enmore/Haslington New Scheme, East Coast Demerara couple and a 15 year-old boy were today charged with cocaine trafficking.
Leonard Bacchus, his wife Indranie and the boy denied the allegation which was read to them by Magistrate Sherdel Isaacs-Marcus at the Vigilance Magistrate's Court just after 10 am.
The allegation is that on August 16, the trio had 67.296 kilogrammes of cocaine in their possession for the purpose of trafficking.
Additionally Leonard Bacchus was charged with unlawful possession of an unlicensed firearm and unlawful possession of ammunition. He also denied these allegations.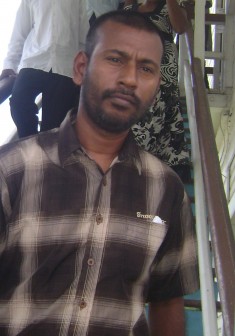 Their lawyer Vic Puran made a lengthy and unsuccessful bail application in which he said there was no evidence against his clients and that one of the charges was bad in law.
Meanwhile Stabroek News understands that the well-known businessman who was arrested in relation to the incident has been released. The businessman was said to be the exporter of the Kunds (a receptacle used in Hindu religious ceremonies) in which the cocaine was found concealed.
Police ranks acting on a tip-off swooped down on the couple's house but no one was home. They kept a presence in the area and made another attempt around 3 pm when the couple and their three children arrived home.
Ranks found the drugs in the upper flat of the two-storey structure concealed in false bottom of the Kunds.
They also found ammunition.
This newspaper was told that the Kunds would arrive in cars daily for Leonard Bacchus to polish.  They had been arriving for about three months.
Based on reports the couple was in a financial crisis. They were in danger of losing their house which has been under construction for the past three years. They recently had their car repossessed. The couple also owned and operated a taxi service at Lusignan.
Around the Web