Metro Office and Computer Supplies on Saturday opened its new $60M New Amsterdam branch and plans to expand its services and products line.
The two-storey concrete building is a stone's throw from Metro's old branch at Church and Main streets in the Berbice town where the business commenced operation 15 years ago. The new building was opened following a religious ceremony and symbolic cutting of the ribbon by Acting President, Samuel Hinds. Construction started in September last year and the business now offers employment for 15.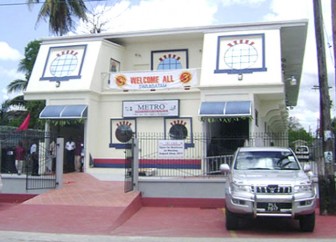 President of the company, Ron Ramnarayan in brief remarks during the three-hour Lakshmi Pooja complimented his Chief Executive Officer, Taajnauth Jadunauth for being the visionary who "watered the seed" which he, Ramnarayan, had planted many years ago. "Being in the company for ten years 'Taaj' as the CEO is fondly called is a man of vision. I do not know how he did it. I am impressed of the way he envisioned the design," said Ramnarayan.
Such an accomplishment, he added, would not have been possible without Branch Manager Avia Lindie who exercised great leadership which allowed the business to grow and expand.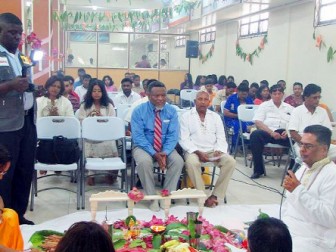 The new building, the company president said, will bring additional technology and employment along with new ventures even as government's expansion plans progress. Hinds, in brief remarks, congratulated Metro's staff and more particularly the Ramnarayan family who also manage a branch of Metro in the United States.
The PPP administration, Hinds said, has set the conditions for citizens to make their country better. "When people go abroad to countries which have been developed longer than ours and have adapted their patterns, and returned with them here, we are happy for that," Hinds added. The Ramnarayan family has kept the name of Guyana flying high, he said. Guyana is on the upward trend and will be a great place for all to live in, the acting President asserted.
CEO Jadunauth told the media the company plans to expand the range of services and products currently offered.
The new location is fitted with a 150-kilowatt generator and has a wheelchair ramp. Among its new features, printing of plans in a wide format will be available.  The new building will house the office and computer supplies in the lower flat and the upper flat may be transformed into a mini mall but plans for such are currently on hold, Jadunauth said.
Around the Web