Fans of Indian actress and model Shilpa Shetty turned up in their numbers at the Providence Stadium on Saturday evening but were disappointed after her much-anticipated `headlining' performance failed to happen.
She did not sing or dance and remained seated for about half of her 45 minutes on stage. Patrons were left bewildered since they were expecting quite a performance from the Bollywood star after this impression was given by promoters. During a previous press conference, coordinator for the event Joel Ghansham had told the media that one of the reasons for choosing Shetty was her ability to adjust to the liking of Guyanese as she is very "flexible" in the sense of her selections in her stage performances.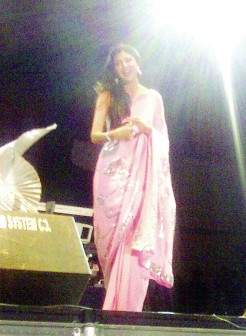 Though Shetty's performance fizzled, the mere appearance of the radiant young woman, who made her entrance during a performance by the Shiv Shakti Dance troupe out of Trinidad and Tobago, dressed in a simple yet beautiful baby pink sari, pleased fans.
As she gracefully strolled across the stage, greeting her many screaming fans, the dancers moved to the sound of "I'm in love", a popular song from a movie Shetty has starred in. Shetty spoke of how pleasant the Guyanese people have been to her. "I have to say, east to west, Guyana is the best," she exclaimed.
"Look at that hair, look at that sari, look at that figure, isn't she the most beautiful woman," hostess Bindu Kohli gushed, praising Shetty as the breath-taking beauty made her way over to a well-decorated seat placed in the corner of the stage.
Kohli, at this point, told the audience that Shilpa was looking forward to interacting with the audience as she added "It's all about you and Shilpa tonight".
The "headlining act" was then entertained by Chutney singer Hitman, who, during his performance, attempted to sing the film song 'Tere Naam' but was interrupted by the actress with a much appreciated question: "You want people to dance or to sleep". Hitman quickly responded as he belted out Chutney tunes like 'Don't hold me back', 'Bring de rum' and 'Firewater' which sent the audience rocking.
After Hitman exited the stage, 16-year-old Nicketa, who performed at the beginning of the show, returned and sang for the Bollywood siren. Shetty appeared pleased with both these performances as she walked over to the teenager after her presentation and had a brief chat with her.
Following this, a few short clips in which Shetty performed some jaw dropping moves was shown. Sadly the audience was not given the privilege of seeing such a performance live.
Three fans were also selected to join Shetty onstage: a little girl named Bibi, a 16-year-old boy and another who said he hopes to become an actor. The aspiring actor was challenged to portray the best proposal and many would opine that he aced this as the youngster got down on one knee and sweetly asked Shetty to marry him. The actress later humorously said if she was not married then "yes, definitely".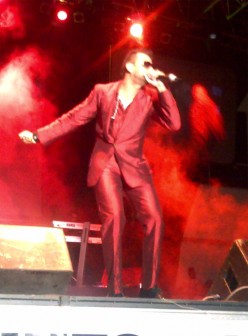 While interacting with little Bibi, Shetty had requested a track to be played but was notified by Ghansham that the selection was not available. "That is very poor organization," the Bollywood actress responded.
Shetty, who has been acting for 18 years, described Guyana as very beautiful and noted that she was honoured being among such "warm people".
Before leaving, Shetty was presented with a packet of Demerara Gold sugar as Ghansham shared a conversation he recently had with the superstar. He said she had asked him what Guyana was famous for, to which he said lots of things, including the export of rice, bauxite and sugar. This, he said, caught her attention and prompted her to enquire what kind of sugar. When he responded "Demerara sugar" the star excitedly revealed that the local sugar was the only sweetener she would use in her tea.
After receiving her sugar, the glowing Shetty was asked to perform just a few lines of a song of her choice. She admitted to being a terrible singer and said she had never sung on stage before. She then sang two lines of a song from her movie 'Dhadkan' and subsequently gave the translation "you live in my heart and you will continue to live in my heart".
Before exiting the stage, Chief Executive Officer of the Guyana Telegraph and Telephone Company, Yog Mahadeo, and Kerwin Bollers of Hits and Jams Entertainment joined the reality TV star on stage to make a few remarks. Shetty then left at approximately 12:30am.
Karma
Persons were promised a fabulous and entertaining show and though this is not what they got from Shetty, they certainly experienced this when Trinidad's most popular crossover band, Karma, appeared, closing the evening's programme.
The band managed to bring crazy "hype" to the stadium during their over an hour-long performance. Lead singers Ravi B, Gregory and Nesha B provided the Guyanese crowd with a wide music selection as they provided top class entertainment, ranging from chutney, soca, hip hop and R & B.
Club anthems like 'On the Floor', 'Give me everything', 'Roll up' and even the infamous 'Man down' from Rihanna were sung. These performances were flawless as they almost mirrored the original acts.
Many thought that the show belonged to Karma, which is no stranger to Guyana and is very much loved in these parts. There were absolutely no dull moments once this band took to the stage as they dished out exciting dance moves in a well-organized performance.
Curtains came down on the concert close to 2am yesterday and it was an absolute breeze leaving the stadium as many folks had left after catching glimpses of Shetty on stage.
Other acts of the night included Guyana's reigning chutney monarch queen Fiona, singer Babar and dance pieces from the Apsara and Shiv Shakti dance troupes.
Those in attendance would agree that Fiona's performance has greatly developed over the years as she confidently strutted about the stage, swaying her hips to the sound of the music between verses. Babar, who might have been a tad impressed, joined Fiona in a collaboration of 'Monica, my darling'.
One cannot forget to mention what a fashionable event it was as persons came decked out in their finest. Ghansham definitely outdid his co host, as he was dressed in a bright, sparkling blue kurta that could have been spotted a mile away. Bindu too was decked out in an extravagant, silver mini dress with a black lace overall.
Around the Web