Children living with type 1 diabetes and their care-givers last weekend attended a two-day camp at Splashmin's camping ground, along the Linden/Soesdyke Highway, the Government Information Agency (GINA) said in a press release.
The Ministry of Health collaborated with private institutions in hosting its annual two-day youth camp, which aims to educate children and their care-givers to manage the condition, thereby reducing susceptibility to other health challenges and risks associated with it.
The camp is a refresher session organised with games that would not only teach the care-givers how to manage diabetes levels, but also to spread awareness that such a programme is present in Guyana.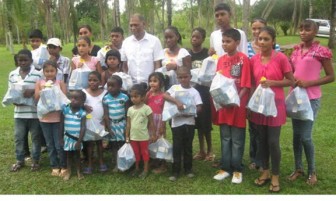 Bounty Farm, located in the area, was among the first sponsors of the programme before the camp started. Now, there are a growing number of sponsors willing to assist in providing required medication for children living with diabetes.
Princess Nash and Rebecca Marsile, Peace Corps volunteers, along with Jacqueline Williams and Neibert Tucker, nurses from the Ministry of Health's Chronic Diseases Department, were at the camp to assist in the teaching and distribution of hampers.
Meanwhile, the International Federation of Australia (IDF) made a presentation of supplies to the care-givers of the children for testing sugar levels. Each package contained a glucometer and Novopen, the former being the newest technology that avoids the trauma of self-injecting syringes that were used previously.
Melanie Wilson, mother of an 11-year-old, mentioned that she was at the camp last year and chose to be present again to gain more experience and knowledge about diabetes.
For seventeen year-old Manzoor Gafoor, he would love to return next year. Manzoor said that he is grateful for the service that he receives at the Georgetown Public Hospital.
The release said further that the United Nations will have a special programme next month to address chronic diseases such as diabetes, heart diseases, hypertension and cancer.
Guyana has put on the agenda "Diabetes among children" as a special developmental issue. It will be given a special award by the Pan American Health Organization (PAHO) in September for its response to chronic diseases, the release concluded.
Around the Web