Every healthcare facility, government and private, will now have a reminder of the zero tolerance for stigma or discrimination to anyone seeking health treatment, including protection from prejudice on the basis of sexual orientation.
This was assured by the Minister of Health, Dr. Leslie Ramsammy, as he presented the first stigma and discrimination plaque and suggestion box to the National Care and Treatment Center, at the Georgetown Public Hospital, at a ceremony held yesterday.
Identical plaques and suggestion boxes will be placed in health facilities across Guyana and the Minister reminded private health entities that this will be a requirement for the granting of practicing licenses to those businesses in 2012. He added that he hopes that plaques be not just a policy document but serve as  an executable mandate on the part of health care providers in Guyana.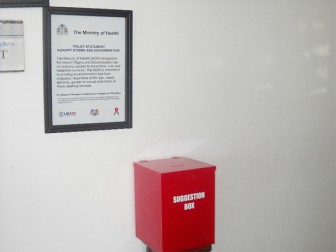 He admitted that there have been and continue to be instances where healthcare workers judge persons seeking treatment possibly  because of unkempt looks, smell, class and most commonly sexual orientation and HIV status. He used the forum to admonish those healthcare providers since their duty is to provide healthcare support and not pass judgment on anyone.
Dr. Olufemi Owoeye, Chief of Party, GHARP11, declared the ceremony "an august day in August" since Guyana is the first country where such a stance was taken to stamp out stigma and discrimination at healthcare facilities. He thanked the Ministry for being trendsetters and urged all stakeholders to play their part in the elimination of stigma and discrimination.
Carol Horning, Mission Director of USAID in Guyana, also echoed the sentiments of both Dr Olufemi and the minister as she highlighted that the initiative was taken after a survey carried out in 2009.
She then hailed the occasion a momentous one and thanked the ministry for its sensitization efforts carried out countrywide albeit.
The plaques serve as a reminder to healthcare workers countrywide that they have a responsibility to render non-prejudicial health services to anyone who seeks it regardless of age, creed, ethnicity, gender or sexual orientation. The plaque reads: "The Ministry of Health (MOH) recognizes the impact stigma and discrimination has on reducing access to prevention care and treatment services. The MOH is committed to creating an environment free from prejudice, regardless of the age creed ethnicity gender or sexual orientation of those seeking service."
Around the Web