Residents, business people and passers-by watched helplessly yesterday as a young man was severely chopped about his body by a friend shortly after the start of business in the shopping centre at Mackenzie, Linden.
Twenty-two-year-old Winston Hinds of Blue Berry Hill, Wismar, Linden is nursing multiple cutlass chop wounds about his body, especially the face, hands and back, which were inflicted by a close friend.
Telling the story from his hospital bed, Hinds said that the incident occurred after his friend could not wait for him to honour a debt after he was blamed for causing his pal's  firearm to fall overboard.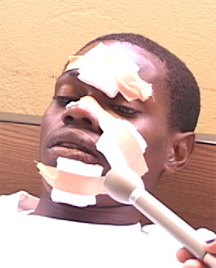 "Deh man like he couldn't wait and he do dis to me. I mek he gun fall overboard and I promised I was going to give some money back fuh it cause I could go in dah creek to find it but he couldn't wait and dis is how he treat me," said Hinds from his hospital bed.
The young man who could hardly speak managed to tell his side of the story. He said that recently his friend was testing a new handgun in  the Kara Kara Creek area and he decided to ask for a "feel" (to try out the weapon). He said that the weapon hit the rail of the bridge causing it to fall overboard. His friend whose name was only given as 'Devil' became infuriated and demanded that he retrieve the weapon or pay a sum of $120,000.
"I tell he ah gon give he dah money when I mek meh next run to Mahdia but like he couldn't wait he keep calling and calling all deh time."
Things got worse as the weekend went by. On Sunday the accused told Hinds that he had one day to honour his debt.
As he was walking along Republic Avenue shortly after 9:00am yesterday (Monday), in the midst of the Monday morning hustle and bustle the accused allegedly confronted Hinds and started chopping him. Hinds attempted to escape but he was pursued aggressively by his assailant.
According to an eyewitness, he attempted to arrest the man but was warded off by the aggressor. "He woulda put some good chop on me too so I had to back off."
Sources close to both persons had a different story to tell, saying that there was never any gun testing but rather a business gone bad between the two.
"Anybody with commonsense would tell you that nobody could be on the bridge testing out gun and where in heaven's name Devil woulda get a licence firearm so as much to be in a public place like on the Kara Kara Creek bridge shooting?" questioned one businessman.
The assailant ran on to Co-op Crescent where he made good his escape. Both Hinds and "Devil" are well known characters in Linden.
The eyewitness said that Hinds though much taller couldn't do much to save himself. "He try to run but chops were too much, he run and fall down in front deh bank (Republic Bank)."
The presence of armed guards at Republic Bank was credited for the man's rescue. "Everybody thought he was dead," said another eyewitness who also observed  that Hinds was bleeding profusely on the ground and persons were fearful of  touching him. She said that  police officers responded promptly and took him to hospital.
Hinds was rushed to the Linden Hospital Complex where he remained up to press time under police guard.
Around the Web