The François-Xavier Bagnoud (FXB) Center, of the University of Medicine and Dentistry in New Jersey, which has provided support services to seven of the nine HIV care and treatment sites throughout Guyana, will end its activities here at the end of next month.
The organization held its closing ceremony on Monday at the Cara Lodge Hotel Georgetown, where Country Director Nicole Jordan-Martin publicly thanked all participating stakeholders for the support given to them from its initiation in 2004, to the closure come September 30th, 2011.
Virginia Allred, Director of Global Products of the FXB Center and the Principal Investigator of FXB in Guyana, stated in her brief remarks that FXB did not see the day as one of closure but as a transitioning period where duties would be passed to the Ministry of Health.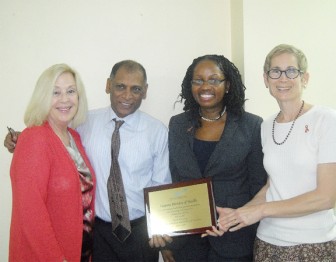 She added that with all the assistance given by FXB over the years, the ministry was now capable and equipped to stand its own ground. She gave a background to FXB and informed that the project was funded by the United States Centers for Disease Control and the Global AIDS prevention programme, under the auspices of the United States President's Emergency Plan for AIDS Relief (PEPFAR).  She ended by informing Ministry of Health personnel that FXB USA will always still be available to give consultative support and she extended a thank you to the Guyanese people, who were welcoming and supportive throughout the FXB service period.
Carol Horning, Mission Director USAID, stated that she was proud of the accomplishment of FXB in Guyana.
Minister of Health Dr. Leslie Ramsammy stated that although the project came to an end, the programme will continue, given the Ministry of Health's continued support towards HIV treatment countrywide. He added that the ministry will not be complacent because of the lowering of the HIV rate countrywide, but will take a pattern from the Tuberculosis programme and always be up to date in managing and treating  persons living with HIV and AIDS.
At the conclusion of events, FBX presented a plaque to the Ministry of Health for the unwavering support rendered for the period FBX had been present in Guyana.
Around the Web