The Guyana Defence Force has denied claims that it tortured one of its ranks by stripping, beating and forcing him to lie on a "wet concrete floor while in custody at army headquarters, Camp Ayanganna."
The GDF in a press release last evening  was responding to a Kaieteur News article of August 23, 2011 titled `Soldier's mother  fears for his life'.
"This claim by Kaieteur News is far from the truth and the soldier, Private Dane Wilson, was interviewed and denied he suffered any form of torture," the army stated.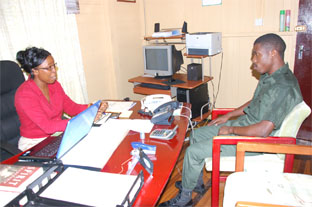 Last Friday Private Wilson was ordered to be placed in detention for refusing to perform a military duty and being absent without leave, the release said.
It further stated that upon being taken to the cell, he stripped naked and had to be wrapped in a sheet before being placed in the cell, where he was eventually clothed in detention uniform. Private Wilson was subsequently disciplined on Monday for the offences.
"Our investigations have so far revealed that his mattress was withdrawn from him and his cell was deliberately soaked by another inmate.  The persons responsible will be appropriately disciplined.  Further investigations are being conducted into allegations that he was manhandled while in the cell," the army said.
Meanwhile, the Force Welfare Officer yesterday  contacted his mother to have her concerns addressed but she was unavailable and promised to visit the Welfare Officer today.
The GDF said it wished to assure the public that "all of its actions and practices are of a high standard and are above board, and it is on record (as) taking swift disciplinary action against deviant behaviour."
Several years ago three soldiers had claimed that they were tortured at Camp Ayanganna by officers of the army's intelligence unit. Critics had said that the army did not adequately investigate these claims.
Around the Web