After being stranded in the city due to damage to his boat engine, toshao of Kurutuku, Solomon Lewis was further inconvenienced after someone stole the vessel.
It was only yesterday after a week of searching that he recovered the vessel which was partially concealed in the Cuyuni River. "I believe some island people wanted to steal it," Lewis said. He said that someone had been seen using the vessel. "That person would have steal it if I didn't move fast," he said. The leader of the remote Amerindian settlement had hidden the boat in the Cuyuni River after the engine was damaged while he was on his way to the National Toshaos Conference at the end of July.
Since then he was stranded in Georgetown but later went to Bartica to look after the engine. It is still to be repaired because he does not have the funds. Lewis had told Stabroek News that he had raised the issue several times with the Ministry of Amerindian Affairs but was "pushed around". He said that he was told that the Ministry had no money to repair the boat but was later informed that the Finance Division of the Ministry was looking after this and the process would take a week or so. Lewis said that he obtained a quotation from Mings for the repairs and this amounted to $491,000. "Without the repairs, I wouldn't be able to reach Kurutuku," Lewis had said.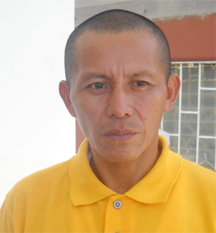 Yesterday, he said that after an article appeared in the Stabroek News about his plight, the Ministry contacted him and said that they were ready to assist him. He said that the person said that they wanted to see him but he explained that he was in Bartica trying to get the boat to the community. "They tell me they want to know where I was and I said you know my position," he recalled. But he then discovered that the boat was missing and spent the last several days looking for it. The boat was not damaged, he said.
Lewis said that paying for his accommodation and other expenses had exhausted his finances and now that he has found the boat, he cannot afford to travel from Bartica to Georgetown. He said that he has contacted his family and asked that they send some money for him following which he will return to the city to meet with the Ministry.
The village leader said that he could not have returned to the village without the boat because it is the only means of transportation there. "If I go back to the village (without the boat) we would be without transportation…if somebody get sick we wouldn't be able to get that person to where there is any medical service," he said.
Around the Web