Chief Executive Officer, Dr Dindial Permaul and two senior veterinarians of the Guyana Livestock Development Authority (GLDA) conducted an unannounced inspection of several hatcheries along the East Bank Demerara and Soesdyke on Monday following complaints of poor quality chicks.
The hatcheries visited were Fung-A-Fatt, Georgetown; Didco, Georgetown; Edun, Craig; Lall Beharry, Friendship; and Bounty of Timehri/Soesdyke, according to a press release from the Ministry of Agriculture.
The staff cooperated fully, provided access and information regarding questions posed on vaccination, sanitization, veterinary pharmaceuticals and general bio-security. However, Guyana Stockfeeds Ltd denied the team access and the GLDA stated that action will be pursued against it.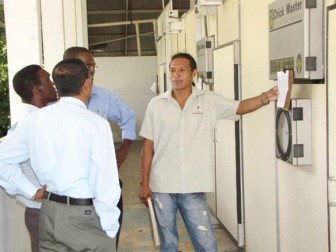 The release noted that under the Animal Health Law passed in Parliament recently, failure to provide access and information to an authorized officer constitutes an offence.
The team's examination showed that the hatcheries are pursuing their vaccination programmes regarding layers and broilers and at the time of the visit, no chicks were being hatched.
Consequently, it was not possible to witness the vaccination of chicks but information is being shared pertaining to hatch days. On these days, GLDA said, its staff will pursue randomized inspection visits.
GLDA, a dedicated semi-autonomous body, has responsibility for all livestock matters under its parent legislation.  And  in the interest of efficient poultry production as well as strengthening its capacity to produce safe and wholesome chicken meat, the Authority has begun a high-level, random series of inspections of hatcheries designed to check on bio-security measures, give technical advice to hatchery owners and operators and to witness compliance with applicable regulations, regarding vaccinations and laws related to animal health.
Guyana is self-sufficient in chickens and table eggs and any relaxation of existing regulations and laws can only serve to whittle away these gains, the release stated. Further, Guyana's food security becomes compromised and its expressed resolve to be an exporter of livestock products can enter the doldrums.
Virtually all chicks are produced from imported eggs brought in either by air or by ships and hatched by a small number of privately run hatcheries, almost exclusively located in Demerara.
The number of eggs that hatch for every hundred is a well established number with a small tolerance, as long as the variables that control hatchability are well regulated in an efficiently run hatchery, the release added.
Around the Web