The suspect in the murder of miner Rafel Khan is yet to be captured by police. Khan named his assailant before he died, a relative said.
His cousin, Toanna Khan-David, told Stabroek News yesterday that Khan, 32, was killed last Friday night. Police had said that the body of Khan of Queenstown, Essequibo Coast was found at about 4 pm on Saturday at Mowasie Backdam, Mahdia, Potaro, with suspected stab wounds to the chest.
Khan-David said that the family received a call at around 1:30pm on Saturday informing them of his death. She said that initially the police at Mahdia did not know of the murder. However, she said, they investigated and made arrangements to go to retrieve the body. Khan-David praised the Mahdia police saying it was only through their efforts that her cousin's body was brought out. She said that the police in the mining community used their own funds to charter a vehicle to get the body since one is not available at the police station.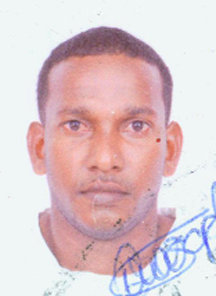 The woman said that her cousin and the assailant- an ex-policeman- had an argument while they were drinking on Friday night. She said that as Khan was heading back to his camp, he was attacked on the trail. She said that they did not know what sparked the argument. "Apparently he died a cruel death, not only did (the attacker) stab the boy with a scissors but he was beaten with a wood that had a nail in it in his back and head," she said.  The assailant fled after the attack and has not been seen since. Khan's body was brought to the city on Monday and an autopsy is scheduled for today. Khan was working with an uncle who operated a dredge in the area. It was only three weeks ago that Khan had returned to the interior where he worked for some years. His murder is the latest in the increasingly violent gold fields. Only last Wednesday, two miners, a father and his son, were killed after being attacked and robbed at their camp at Konawaruk. Daniel Higgins, 48, of Ann's Grove, East Coast Demerara, and his son Daniel Higgins Jr., 22, were attacked at about 10:45am on August 17 at White Water Backdam, Konawaruk.
Police said that investigations revealed that the victims were mining when a man approached and shot Daniel Higgins about his body while another man chopped his son to his neck. The body of Daniel Higgins was found buried in the mining pit. He was reportedly buried with the aid of an excavator while still alive. No one has yet been charged.
Around the Web