Residents on the East Coast and West Bank of Demerara yesterday viewed a rare weather phenomenon in the form of  waterspouts in the Atlantic Ocean.
According to a release by the Ministry of Agriculture's Meteorological Office, a waterspout is a "funnel which contains an intense vortex, sometimes destructive, of small horizontal extent and which occurs over a body of water." The release further stated that depending on how they form, waterspouts come in two forms; the tornadic and non tornadic (fair weather). In this case, Guyana experienced the latter.
At first glance, a waterspout [depending on its size at sight] looks like a tornado moving over the water. According to the release, tornadic waterspouts generally begin over land in association with a thunderstorm, and then move out over the water. These can be capable of considerable destruction. On the other hand, the fair weather waterspouts form only over open water. "They develop at the surface of the water and climb skyward in association with warm water temperatures and high humidity in the lowest several thousand feet of the atmosphere. They are usually small, relatively brief, and less dangerous," it said.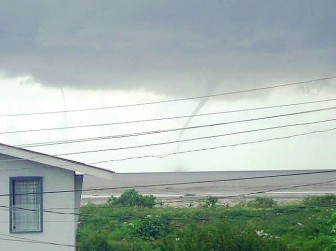 The release added that the type of waterspout sighted yesterday is formed over water initially due to warm temperatures in the lower atmosphere along with high humidity.
Several residents from Cornelia Ida and Windsor Forest related to this newspaper what they witnessed. One such resident, called `Aunty Baby' relayed that sometime between midday and 1:00 pm she was in her house when she received a call telling her to look outside. The woman said that she complied and at first reported seeing nothing but fog, but then she realized that the fog was "it". She described the waterspout as being very foggy with the water from the ocean being lifted off the surface and reaching towards the sky. `Aunty Baby' related that this is the first time in all of the "many years" living in Guyana that she has seen such a thing.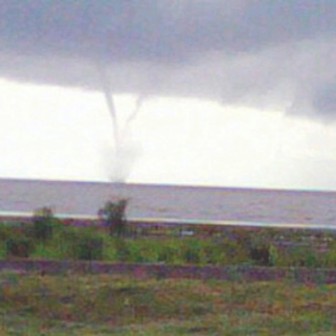 Up to press time there were no reports of waterspouts coming ashore.
Around the Web