Local actress and teacher Shelly Bancroft's died on Wednesday at the Caribbean Heath Institute (CHI), in Georgetown, as a result of what doctors at the institution say was a failed liver and kidney caused by an enlarged bowel.
However, Noel Bancroft, now mourning the loss of his daughter, says all the complications began after her "successful surgery" at the CHI.
His daughter, he noted, was ill and after consultations with various doctors, she was told in February last that she had a damaged heart valve, which necessitated surgery. This was to the tune of over $2M dollars, raised from a fundraising performance of "Nothing To Laugh About," donor telethons, contributions from members of the public, the National Insurance Scheme and the Ministry of Health.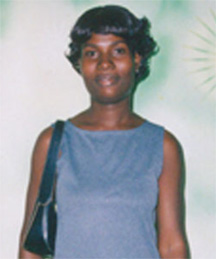 Bancroft recounted that in April of this year, she checked into the CHI to have the surgery and learned that not one but two heart valves were not functional. They, however, performed the operation to repair the one valve, he said.
Complications for Shelly Bancroft began after the "successful surgery" deemed by doctors at the institute, her father said. "Since they operated on my daughter, she was never herself. She got fine like a matchstick then all of a sudden her belly swell, her hand swell, her foot swell, her face swell, they say she got gallstone, she liver bad, she got bowel infection… dis wrong, dat wrong, everything wrong." He added that with the maladies came additional monies to be paid. To date, he said he has spent close to $2M for medication to treat surgical complications. "Is a ten thousand here a twenty there, every three day is money, money, money, if not from them [the doctors] is from the pharmacy but what could I do? We paid because my daughter's life had no money value attached to it."
Infection
According to Dr Haydock Wilson, who runs the clinic at CHI, Bancroft did not die as a result of the surgical procedure but as a result of a failed liver and kidney, which was caused by an enlarged bowel.
Wilson told Stabroek News that the enlarged bowel, known as Pseudomembranous colitis, was caused by an opportunistic infection. According to the doctor, because antibiotics were part of the post-surgery treatment, they would have likely resulted in her bowel becoming infected since while the antibiotics may have suppressed one bacterium, this would have created the opportunity for another to attack. He added that when these cases occur, about 20 to 30 percent of persons would die.
Further, Wilson said that the infection would have seen Bancroft suffering from fever and diarrhea and weakened her immune system. He was not sure how long she would have experienced these symptoms, and he said that he had seen her the Friday before she was admitted and she did not mention these to him. When she was admitted on Sunday evening, she had fever and was suffering from diarrhea. As a result, the relevant treatment was administered.
"Unfortunately the infection affected her kidney function and liver function, which ultimately caused her demise," Dr Wilson said.
He said following her death on Wednesday morning, he met with family members, including her husband, father and two females, and he explained to them how the actress died. He said coming out of the discussion, he got the impression that they did not understand what the actress was suffering from, even though they knew she was attending clinic for a heart condition at the Georgetown Public Hospital Corporation for about ten years.
Wilson said he told them she suffered from rheumatic fever, which damaged two valves in her heat-the aortic valve and the mitral valve. In April, he explained, the surgeon operated on her and her mitral valve was removed and replaced with an artificial valve. He said the surgeon would have explained that while the aortic valve was also damaged, there was no need at that time to have it replaced. He added that while he cannot speak for the surgeon, he is sure if he felt that the aortic valve needed to be removed, he would have done so.
"But there is no way that the surgeon could have damaged the second valve while removing the other," Wilson said.
The doctor said after the surgery, the actress went home and she later complained about stomach pains and it was found that she had an enlarged liver and an ultrasound found she had a gallstone.
"The gallstone was just a chance finding and it is not a case that it caused her death," Dr Wilson said.
He added that Bancroft was on treatment for the artificial valve and she had a common irregular heartbeat, for which she was treated. The doctor said following the discussion with the family, he gave them the option to have a post-mortem done but they declined.
Shock
Members of the theatrical society expressed shock at the actress' sudden death and many explained that because of her personality—she was a known fighter and eternal optimist—they believed that she would have made a full recovery.
Production Managers of "Nothing to Laugh About," Maria Benschop and Lindon "Jumbie" Jones said, "She was in our production from its inception. It's a terrible loss for us .Shelly was an actress that was close to all the other actors and actresses. This was demonstrated when we held our benefit concert that most gave up their fees to aid her. She was unable to perform in our tour but we didn't hire anyone new, we prayed for the best and were expecting her to get better and return. It really is a loss."
Her friend, fellow teacher and actor Kerwyn Mars said that it was a sad day when he learned of her passing. "Shelly touched so many lives. She was joy to be around. I am thankful for the time I had with her. She was always encouraging and enjoyed her job teaching very much. She loved her children and loved acting. I will miss her as a friend and confidante. Everyone will miss her. People normally say swell things when persons die. She is deserving of everything I say and more," he said.
Around the Web