Former national bantamweight champion Dexter Marques was yesterday arraigned on charges for armed robbery, wounding and using threatening language.
Marques, 25, of 292 'B' Field, Sophia, was not required to plea to an indictable charge of armed robbery and two indictable charges of felonious wounding, when he appeared at the Georgetown Magistrates' Court. He, however, pleaded not guilty to the charge of using threatening language. He was later remanded to prison.
It was alleged that on July 12 and July 19, respectively, at Independence Boulevard, Albouystown, Marques unlawfully and maliciously wounded Andrew Swan and Felicia February, with intent to maim, disfigure or cause them grievous bodily harm.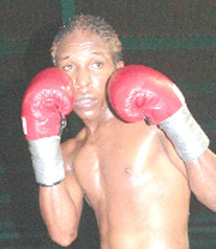 Further, it was also alleged that on July 19, at Albouystown, being armed with a cutlass, he robbed February of a BlackBerry Curve Smartphone valued $145,000. Additionally, it was also alleged that at the said location, he used threatening language to Lisa Hinds, thereby resulting in a breach of the peace.
No facts of what transpired on the various days were presented to the court.
The unrepresented Marques failed in an attempt to secure his pre-trial liberty, after the prosecution opposed bail.
Police Sergeant Lionel Harvey argued that the charges before the court show that the alleged offences were committed on different days, representing a pattern and pointing to a likelihood of the accused committing other offences if granted bail.
Harvey said also that after committing the first set of offences, Marques went into hiding and after committing more offences, he fled to Mahdia, where he was apprehended through persistent police investigations.
He contended that in the circumstances, Marques should be remanded to prison as he posed a risk of flight.
When given a chance to speak, Marques said that he had travelled to Mahdia in a bid to seek employment to support his son and because he was being pursued by persons in Georgetown.
After listening to the submissions, the court granted the prosecution's request, after which Marques was informed that he would be remanded to prison. The cases against him were transferred to Court One for October 5.
Around the Web