The engineering fraternity lost an invaluable member on Thursday evening when Guyana Association of Professional Engineers (GAPE) past president and executive member, Melvyn Sankies died at the Georgetown Public Hospital.
He was 73. Sankies passed away just a few hours after being transferred from the Medical Arts Hospital following surgical complications. "Guyana has lost a valuable engineer and my family a dear and loving individual," a visibly distraught Jean Sankies said. She told Stabroek News at the family home that the way in which her brother met his demise left her emotionally and physically shaken.
He was not chronically ill but informed his family that he would be going to the Medical Arts Hospital on Thursday for a minor surgery, she recalled. The last hours and events happened so quickly that she was left in shock, Jean said.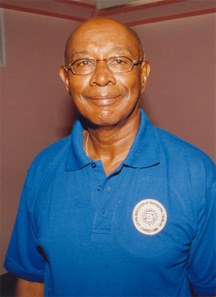 The organisations and committees her brother was a member of were "too numerous to single out" said Jean even as associates and friends hailed him in tributes yesterday.
"Sankie" or "Mel," as he was commonly called, was known throughout the engineering community since he was the pioneer aeronautical engineer in Guyana. He undertook a number of humanitarian works since his return to Guyana from the United Kingdom and his most noted recent project was aimed at educating and giving financial aid to children of Sophia.
In an invited comment yesterday, Prime Minister Samuel Hinds said that Sankies was a lifelong friend as well as a fellow engineer at GAPE. Hinds said that he knew Sankies from their boyhood days, since they both attended Queens College and were in the same House together. He added that from then, a friendship was formed. After Sankies returned from studies in the United Kingdom, they were reunited in Linden at Linmine. The Prime Minister said that he was shocked when he heard of Sankies' demise on Friday morning and described it as a great loss. His death, the prime minister said, brought him to the realisation that "my generation is now on the frontline."
Chairman of GAPE, John Cush said: "On behalf of GAPE we express our condolences to Mel's immediate and extended family. His death is a great loss because Mel's contribution was not limited to only one organization or institution but was spread over a cross section of enterprises and the country altogether. It is therefore apt to say that he will be missed by many." Sankies had been a lecturer at the University of Guyana since the 1970s and has helped in educating most of the locally trained engineers including Cush. Cush said that GAPE will miss Sankies presence too when they publish their newspaper because he was their "frontier."
Sankies was a "good engineer" said veteran engineer Walter Willis. "We didn't see things eye to eye at all times during the manual interfacing we had. However, in the end, we always arrived at a consensus and it's what I admired in him. I personally regret his sudden passing and my family especially my son Dr. Christopher Willis, whom he lectured to at the University of Guyana, extend condolences to his family," Willis said.
Many other persons from several organisations also paid tribute to Sankies.
Jean said that her brother was an avid golfer and was an executive of the Lusignan Golf Club. He was a passionate humanitarian who loved children and always sought methods to elevate them educationally, she recounted. Sankies was born on April 1, 1938.
He is survived by Jean and three brothers.
Around the Web