Essequibo police yesterday arrested a man in connection with the murder of chainsaw operator Phillip Prince, AKA 'Strong Boy,' of Capoey Mission, Essequibo Coast.
According to information, police arrested a 30-year-old man of Capoey at the house where the incident took place, after public-spirited residents surrounded it and prevented him from leaving.
According to the reports, Prince, 29, and the man were consuming alcohol at a nearby shop when a heated argument erupted between them.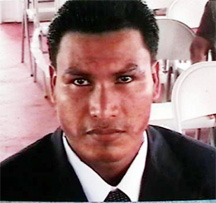 An eyewitness told this newspaper that the suspect ran into his house, with Prince chasing after him. It is alleged that the suspect picked up a kitchen knife and dealt Prince three stabs in his abdomen.
The eyewitness said that after sustaining the stab wounds, Prince walked to his mother-in-law's house in severe pain. He was later rushed to the Suddie Public Hospital where he was pronounced dead on arrival.
The incident has left the small Amerindian community in a state of shock.
Prince is survived by his wife Miranda, and six children.
According to one of his friends, Euclyn Fredericks, Prince was well known in the community for his quiet nature. He was also helpful to everyone, and always jovial.
The murder suspect was taken to the Suddie Police Station.
Around the Web