Six years after they were first promised, Closed Circuit Television (CCTV) Cameras are being installed around the city. While some see this move as an excellent one since it could assist the police with catching traffic offenders and deterring criminal activity, others are concerned about monitoring, maintenance and the proper storage of data recorded.
More than a month has passed since the first set of cameras were mounted and the public is still to be briefed on what is happening. Up to last week, this newspaper spotted several bystanders watching a camera being installed at the traffic lights at the corners of Camp and Lamaha Streets. There are at least three more at various locations in the city.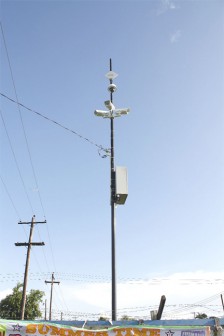 Stabroek News contacted a senior police official who was unable to provide any details on the project. The official said that the government is handling it and that the police are not yet involved.
Several telephone efforts by this newspaper to contact Home Affairs Minister Clement Rohee were unsuccessful.
Head of the Presidential Secretariat Dr Roger Luncheon had told media representatives during a press conference in May that the cameras will likely be installed at points across the city during July-August.
He explained that the plan has been put into effect for the linking of the cameras to the monitoring stations that would be established at the Headquarters of the National Intelligence Centre.
Luncheon added that the CCTV cameras will cover places like banks, gas stations, locations where people congregate and the transportation hubs like car parks and bus parks and such like. He said that the anticipation is that the cameras will have a significant impact.
Retired Brigadier and presidential candidate for APNU David Granger told this newspaper in a recent interview that the money would have been better spent improving the Guyana Police Force.
He said that it is unclear what the true purpose of the cameras is. "Nobody knows exactly why they are being installed. Are they to control traffic or prevent crimes? Are they to control or prevent riots or are they to deter crime or detect crime?" he asked.
Granger expressed the belief that the first camera was installed at Mandela Avenue close to where he lives.  He said that several weeks ago he noticed men in a vehicle "putting up something."
Asked if he was surprised when he saw this, he responded in the negative, remarking that "we were expecting this." He recalled that during the disturbances on the East Coast it was then Home Affairs Minister Gail Teixeira who first spoke of installing cameras.
He is presently concerned, he said, that the greatest volume of crime is being committed away from the city and away from the cameras. He pointed out that there is "outrageous criminal violence" in the hinterland region and in the mining areas, and not a week passes without a serious crime.
He said that piracy – mentioning the five missing Berbice fishermen – smuggling, narco-trafficking and many traffic accidents were occurring in locations far away from the city.
Responding to a question as to whether the cameras need to be installed in outlying areas first, he said, "What I am saying is that I am unaware of the motive of establishing 40 cameras. I think that is the target in Georgetown."
According to Granger there are some who regard the project as a potential invasion of privacy  depending on who would monitor that footage. "It might turn out to be building a surveillance society," he commented.
He noted that it is public knowledge that the police are responsible for traffic/road safety generally, as well as holding the responsibility for the detection of crime. "If it is not going to be monitored by the police force, who is it going to be monitored by? Is it going to be monitored by this new National Intelligence Centre that is going to be located opposite the Office of the President?" he queried. He said these questions give many different meanings to the whole CCTV programme.
He went on to say that the cameras are being installed at traffic lights, and this suggests that they might be used for a traffic/road safety purpose. "I must repeat I don't know what thinking went into this. There was no public discussion, there was no debate, no invitation no public consultation," he said when asked if we have a traffic situation which may require the cameras.
"I don't know what thinking went into it. On the one hand, there might have been traffic consideration or it could be that people want to spy for political purposes," he said.
Limited value
According to Granger, CCTV cameras would be of little value and would have a very limited impact on the crime situation if that is the intended purpose.
He noted that although these devices are being installed in more developed countries, "Guyana is not a more developed country." Granger noted that the true cost of installing the cameras was unknown.  According to him, the National Assembly was told $15 million, but "I do not think this is a true figure."  At no time were any specific details such as the model of camera provided.
Apart from this, he continued, there is maintenance cost: "These cameras are not magic cameras; human beings have got to monitor them, 24 hours a day, seven days a week. If you are going to monitor cameras 24 hours a day, people have to be changed over and people get stressed out as they have to monitor all day."
He noted that persons have to analyse the data and in addition there is the storage of it:
"There will be large amounts of data which would require storage as you will be recording things continuously and after a few months you have hundreds of thousands of hours of footage."
He later expressed the view that the value of the CCTV will not have an impact on crime. "I do not even know that the relevant agencies can even maintain the ordinary equipment," he said, adding that the poor maintenance of the traffic lights is a perfect example. He went on to say that the footage because of poor lighting might not be usable, and that bad weather could also be a contributing factor.
"If we ain't maintaining traffic lights how are we going to maintain cameras?… I think the value is going to be very limited," he said.
Further Granger expressed himself unsurprised by the fact no information about the project was released to the public. "Nothing the government does I find strange," he commented.
"In conclusion I would say we should not have exaggerated hopes that this is going to solve crime. It is not a device for solving crime. It can serve as a deterrent in some circumstances, but the crime will simply migrate," he said.
He emphasized that the cameras cannot be a major crime-fighting device when Guyana is plagued with crimes such as murders, banditry, piracy and domestic violence.
His suggestion was that resources will be better spent on training detectives who would be the best detectors of crime: "The cameras would be at best an auxiliary, but the limitations right now are too great to express any sort of satisfaction with the installation."
Good move
Chief Executive Officer of GEB Security Services Maurice Amres said that the project is a good idea not only because it will reduce the number of police ranks on the streets, but also because it will act as a deterrent to crime.
He said that the CCTV cameras have been successful all around the world, particularly in London. He said that in Miami, for example, they are used for traffic purposes. He explained that if for example you drove through the red light, a ticket will be mailed to your home with the time the offence was committed, a picture of the car, the licence plate number and the fine you have to pay. He said that in a case like that one cannot plead innocent.
He explained that the CCTV cameras just don't have the ability to record, but they are set up in such a way that all the information is fed to one central location. He described them as a sophisticated version of a video camera. It is stationary and records the movements in the area where it is, he added. He explained that some rotate and others are able to pick up images at night. He said that based on what he has seen none of the gadgets are working as yet.
Amres expressed the view that the cameras that are currently being installed are not only to identify traffic offenders but to catch suspects who had committed crimes and fled the scene in a vehicle.
"You now can go back and run the camera which is recording and then you will be able to see where the car passed and then you can pursue it from there," he explained.
Amres told this newspaper that he "is seeing these cameras up on these posts but I don't have any information on what model of camera they are or what's there ability, or more importantly where the action the camera is recording is being taken and who is using it."
He noted that this sort of installation has been happening for years in other countries and he believes that the authorities are trying to get people to become more aware of what is happening in the community, especially in relation to crime.
Crime prevention
"I think the cameras are being installed as a deterrent to crime. So if you see a camera up in an area I don't think you would want to get yourself recorded committing a crime," Amres observed.
He added that "the criminals recognise that the police cannot be everywhere, so they have the element of surprise and changing locations. So the cameras now will help the authorities to pinpoint what, when it happened and who did it. So I think it is a constructive thing. I don't think that it is decorative and this is based on our own experience with cameras both locally and abroad."
He noted that the project is not a harmful move, adding though that he was "a bit surprised" when he saw them at so many places.
"Cameras would play a significant role not only in crime but also in other areas. So look at it as something that is going to be beneficial to you and me," the security expert said, adding that the public should be sensitized when all the cameras have been installed and are operational.
Around the Web