Former US Ambassador to Guyana Roland Bullen made a case for the establishment of a Drug Enforcement Agency (DEA) office here, warning that the influence of narco-trafficking was creating conditions for the emergence of a narco-state.
"The level of narco-trafficking influence on the political, judicial and economic systems in Guyana creates ripe conditions for the emergence of a narco-state," Bullen said in a May 24, 2006 cable, titled "Request and Rationale for DEA Office in Guyana." He also cited government's indifferent attitude to the situation, a judgment that was later echoed by one of his successors.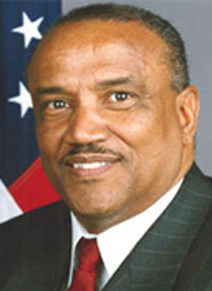 In the cable, Bullen argued that "the great and increasing influence" of the narcotics trade and related transnational crimes in Guyana, and the resulting threat to US interests justified the establishment of a permanent DEA office at the Georgetown Embassy.
He said while Guyana did not at the time garner much attention relative to more powerful and/or troublesome nations in the region, it was of interest to narco-criminals. "They see a country with porous borders, corrupt and ineffective law enforcement, little or no control over its airspace, vast swaths of uncontrolled land, ready access to the Caribbean, North America, and Europe, and a government that has been lukewarm about clamping down on the drug trade," he said. "In other words, these narco-criminals see Guyana as a country where they can operate with impunity."
The cable, which was made public by WikiLeaks last Friday, was addressed to US Secretary of State, the Department of Justice and DEA Headquarters in Washington, DC, as well as and DEA Offices in Puerto Rico and Miami along with US embassies in Trinidad, Venezuela and Suriname. A subsequent meeting was planned for the next month with Michael Braun, DEA Chief of Operations, to discuss the formal establishment of a DEA office.
'Pervasive corruption'
Bullen acknowledged the then plans for the DEA to assist in the establishment of a vetted counter-narcotics unit in Guyana, but noted that "pervasive corruption" in the country, which undermined previous counter-narcotics initiatives, was a major challenge. Establishing a DEA office will allow close and constant monitoring of the vetted unit, he argued, would help alleviate the problem.
It is unclear what came of the discussions, but embassy Charge d' Affaires Michael Thomas, in an August 29, 2007 cable, requested that a US$100,000 allotment for the creation of the vetted unit be reallocated for drug demand reduction project. He noted that no funds from the allocation had been used, since government's positions had scuttled the initiative. "The vetted unit project is no longer viable due to the Government of Guyana's failure to identify an acceptable location for the unit and their lack of progress in addressing drug trafficking issues," Thomas said.
President Bharrat Jagdeo has repeatedly criticised the US for not supporting local efforts to combat drug trafficking.
'Disturbing development'
Guyana's borders with Venezuela, Suriname and Brazil, according to Bullen's request, saw a "steady" illicit flow of contraband across its borders. Further, he said that "an especially disturbing development" was Guyana's involvement in "drugs for arms financing for insurgent groups," like Colombia's FARC, throughout the region. In addition, he said large-scale Autodefensas Unidas de Colombia (AUC) infiltration into Venezuela has led to their playing a significant role in narcotics smuggling activities on the Guyana-Venezuela border.
Although the DEA mission in Trinidad was responsible for Guyana, Bullen noted that it was fully pre-occupied with the counter-narcotics initiatives in the twin-island republic. "DEA has done an excellent job serving both nations, but Guyana demands greater focus and its own DEA staff to fully address the severe narco-trafficking situation on the ground," he said. He added that a permanently manned office at the embassy in Georgetown would ensure that DEA can work more effectively to accomplish the mission's counter-narcotics objectives and provide more sustained support to local law enforcement agencies in Guyana.
Additionally, in a January 6, 2006 cable, Bullen had noted that the US government has held discussions with the Government of Guyana (GoG) off and on since 1999 about setting up a DEA presence in Guyana. He said several issues have prevented the establishment of a DEA presence here.  "The current stumbling block is the GoG's inability or reluctance to give approval for basic logistical details," he explained. Bullen added that while the US government was ready to work with and advise the GoG "as soon as the GoG is fully prepared to move forward in its fight against narco-trafficking."
Earlier this year, Guyana and the US signed an agreement to establish and support projects aimed at countering money laundering and narcotics operations over the next three years, under the Caribbean Basin Security Initiative (CBSI).
The agreement covers two key areas: law enforcement support and tracking money laundering, the US Embassy said. "The law enforcement support is designed to enhance the Guyana Customs Anti-Narcotics Unit (CANU) capability to conduct counter-narcotics operations at Guyana's ports of entry," it explained.
The CBSI is a partnership between the United States of America and the Caribbean nations designed to advance citizen security in the region.  Through this programme, the US and Caribbean countries have agreed to undertake cooperative efforts to reduce illicit trafficking, advance public safety and security, and promote social justice.
Around the Web