-Roger Khan cited in cable as possible suspect
The murder of Minister Satyadeow Sawh on April 22, 2006 posed the "gravest threat" to democracy, Head of the Presidential Secretariat, Dr Roger Luncheon told the US Ambassador during an appeal to Washington for a range of help in the probe.
Then Ambassador Roland Bullen in a cable to Washington on May 4, 2006 – the second on the matter – related how at a meeting on April 24 at the Office of the President, President Bharrat Jagdeo and Luncheon were of the view that public patience had worn thin with the police and they wanted a response that "captures the public's imagination."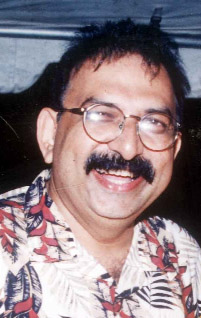 At that point a series of requests for help was made. This was never followed through with after the security situation improved, sources say.
Bullen included in his cable the letter that Luncheon had written him confirming the request for aid. The letter read:
"Subsequent to our meeting today, April 24th, 2006 in my office, I write to record the more salient features of my presentation and details of the request for assistance by the Government of Guyana to the Government of the United States of America.
"The Government of Guyana recognises that the assassination of Minister Sawh has created the gravest threat to our democracy. Significantly, there are other threats associated with the existence of the criminal gang in Buxton and the intellectual authors of their crimes. Also the loss of the large number of AK-47 weapons from the military is still unexplained and recovery unrealised.
"It is in that context that the Administration is appealing for assistance in a number of areas including:
1. Expanding Investiga-tions into the loss of the AK-47 weapons from the military and leading to the recovery.
2. Enhancing the Criminal Investigation Department's investigation into the murder of Minister S. Sawh and his  family.
3. Provision of Crime fighting equipment for an elite force.
"The Administration highly appreciates the current assistance being offered and anticipates a timely response as this time of great threat to democracy and public safety in Guyana," the letter concluded.
Relating his meeting with Jagdeo, Bullen said "Jagdeo's mood was somber, with a visibly furrowed brow. Minister Sawh's killing has clearly hit senior GOG officials hard. Their psychological moat that made them feel separated and protected from Guyana's security problem has vanished. According to Luncheon, Jagdeo has just about exhausted the Guyana security forces' investigative capabilities and so they are forced to seek greater international assistance. Post's impression is that Sawh's killing has really woken up senior GOG politicos to the loss of state control over the country's security," Bullen told Washington.
Bullen also said that he had been told that requests for help had also been made to Canada and the UK. However, he said from discussions with them senior security officials were unaware of these requests. He said that then Minister of Home Affairs Gail Teixeira, Police Commissioner Winston Felix and Chief of Staff Edward Collins were ignorant of these requests for help.
The Ambassador was of the view that the request "reflects what President Jagdeo, Luncheon and the Cabinet want during this moment of sorrow and possibly panic."
Theories
Bullen then discussed theories surrounding the murder of Sawh, family members and a security guard. He cast them into three schools of thought.
The first was political. He said: "A militant, presumably Afro-Guyanese anti-government faction wants to gain greater political power but feels it cannot do so through Guyana's democratic process.
"The GoG is peddling this theory, and the GoG leadership is paranoid about a treasonous cadre of current and former military and police officers. This militant group is centered in Buxton, a coastal village approximately six miles east of Georgetown that is essentially beyond state control. A corollary to this theory is that Sawh was targeted in revenge for the January killing of prominent Afro-Guyanese journalist and rabble-rouser Ronald Waddell.
"To this end, the Joint services have engaged in a series of searches of Buxton, which have netted night vision goggles, military uniforms, and other pieces of military equipment.
"Ballistics tests performed at spent shells from the Sawh murder scene prove that the same weapons were used in the February 26 Agricola/ Eccles massacre and another gruesome shooting/beheading in Agricola in March 2005. Notably,
Luncheon fueled the political angle when he publicly mused in the April 27 post-Cabinet briefing that unspecified members of the PNCR have contacts with the bandits in Buxton. However, he explicitly stopped short of linking the PNCR to Sawh's murder," Bullen related to Washington.
The second theory revolved around the possibility that Sawh was involved in criminal activities. Bullen said that Sawh was said to be close with a criminal (name provided), a suspected money launderer and alien smuggler. This man, he said, financed a fish farm which appears to be a money-laundering operation.
Bullen noted that the man was previously arrested with several Guyanese and US passports but later was acquitted of wrongdoing. Bullen pointed out that as Minister responsible for fisheries, Sawh would have had an ostensible reason to meet with the criminal. "Moreover, several tuned-in observers from a cross-representation of Guyanese society feel strongly that Sawh was a clean minister relative to many of his peers," Bullen told Washington.
Roger Khan
Bullen then introduced into the equation that the notorious drug dealer Roger Khan could have had a part in Sawh's murder. Bullen said that "Sawh took too strong a stand against criminal activity. Some are saying that Sawh took a lead role in urging the Cabinet not to issue forestry permits to suspect concerns, which pitted him against the drug lords. According to this reasoning, Shaheed "Roger" Khan – whose forestry application was mentioned in the 2006 International Narcotics Control Strategy Report (INCSR) – may then have had a hand in Sawh's killing."
Other reports had suggested that Sawh may have authorized the process that took Khan to the verge of winning a forestry concession. The process was later terminated when pressure mounted on the government over Khan's drug connections. It is then postulated that Khan took the drug lord's revenge on Sawh.
Prior to the release of this cable, in recent years it has been postulated that Khan could have had something to do with Sawh's killing. Sawh was at the time of his killing the minister with responsibility for forestry. In recent months, Sawh's brother-in-law, whose wife was murdered in the April 22 attack, had told Stabroek News that he was approaching the Canadian government for assistance in contacting Khan as he believed that he might have had answers on Sawh's killing. The brother-in-law, Bob Persaud has had no success with this as yet.
In the earlier cable on April 24, Bullen had also offered another theory that Sawh's killing was a random armed robbery but he said few believe this given the operation's efficiency and the use of assault rifles unavailable to the common criminal.
Bullen also addressed the pressure that Top Cop Felix was under.
"Pressure has continued to mount on Commissioner of Police, Winston Felix, to resign in the wake of the crime situation. In an April 25 press release, the Georgetown Chamber of Commerce and Industry added its voice to those who have called for Felix's resignation, expressing 'absolute and total lack of trust and confidence in the leader of the police force.' Despite speculation that he would not last through the weekend, Felix remains on the job. Some interlocutors suggest that Felix's impending retirement in October makes the potential political fallout of sacking him not worth the effort. Nevertheless, President Jagdeo pointedly called on the police force to produce results at Sawh's April 25 funeral, declaring that `no one can convince me that among the 5,500 [members of the police and army] and all the money that we spend in that area, that we cannot find and mete out to them what they deserve for terrorizing our country and our people.'"
In his first cable on April 24 on Sawh's murder, Bullen had said:
"Although Sawh's killing has horrified Georgetown, it has not truly surprised the political set.  Post's interlocutors have warned for over a year that the upcoming election season would bring with it political violence.  No one expects this to be the final salvo, although one hopes the ruling PPP will resist the temptation to use Sawh's killing to reap political gain by pinning this on the opposition without hard evidence.  The mood in Georgetown is marked both by somber introspection and by indignation with the security forces' inability to solve – let alone prevent – any of this year's execution-style killings.  Calling Sawh's death the first assassination of a government minister in Guyana's history, the independent Stabroek News' April 23 editorial stated flatly, "We have crossed the Rubicon." Others are echoing this theme – vigilante justice rules in Guyana, which now resembles a big ranch more than a nation-state. Felix will come under ever greater scrutiny and pressure to resign until he can demonstrate tangible progress in solving these cases.  It is certainly in the USG's interest to provide whatever assistance possible to help the overwhelmed police force in its investigations."
Bullen's first cable had also noted that elections were due that year and Guyana had a long history of violence around election time.
"This year is shaping up no differently.  Brazen robberies are occurring more frequently, often in broad daylight.  The levels of lawlessness and fear in Guyana are rising sharply.
"In late February, over thirty AK-47s and other powerful weapons were found missing from an army storehouse; then a heavily-armed group conducted a paramilitary-style operation in the Eccles and Agricola communities, executing eight after blockading the road to the international airport (ref A).
"Emerging reports indicate ballistic tests confirm that weapons used in Sawh's killing match those used in the Eccles/Agricola operation," Bullen stated in the cable.
He noted that several organizations, including the main opposition party PNCR, have issued statements condemning the killings and that the US Embassy planned to coordinate with the UK, Canadian, EU, and UN missions on a joint statement condemning the acts of violence, similar to the statement made after Waddell's murder.
He also noted that the US embassy's Emergency Action Committee met on April 22 at 11am to discuss the killing of Sawh earlier in the day and its implications.
Around the Web