Tackling serious crimes in the E & F Division will always be a problem for the police who are undermanned and lack the necessary crime-fighting resources according to retired Brigadier David Granger who advocates appointing two commanders deal with this enormously complex area.
Granger who is also the presidential candidate for APNU noted that the increase in gold prices is a magnet for criminals and is something that also needs to be taken into consideration by the police.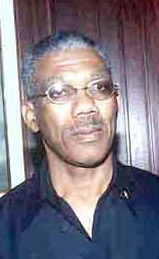 So far for this month, six persons including a woman have been murdered at various locations in that division. In spite of the figures, Crime Chief Seelall Persaud told this newspaper recently that there has not been a big increase in serious crimes in the division, a position that is not shared by Granger.
Persaud said that break and enter is the most frequent crime in E & F.
While he could not give a specific number for murders in the division he said that so far for the year the Force has recorded 88 murders in comparison with 84 for the same period last year.
Asked if an increase in manpower or resources such as All Terrain Vehicles would help in the  fight against crime, he replied that the "interior is huge." He said that currently there is an influx of coastlanders to those regions and they would bring with them aspects of their behaviours. He said that the majority of murders in that division involve disorderly conduct and so "more ranks will not help."
Granger told this newspaper that he does believe much can be done to tackle crime in this area. He noted that at present the price of gold which stands at US$1800 is "attracting all sorts of people into the interior." He noted that many of them are persons of shady character who don't go there to work but to attack persons.
He told Stabroek News that several years ago the Guyana Police Force decided to combine E Division which dealt with the Upper Demerara and F Division which stretches from Mabaruma in Region One right down to Konashen in Region Nine. "So we have a situation in which 75 per cent of this country's land space is under the command of a single police commander," he said.
Granger noted that the commander David Ramnarine is the most junior Assistant Commissioner and his headquarters are located at Rabbit Walk, Eve Leary which is far away from his division.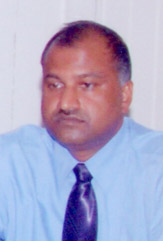 He said another problem the Police Force is that it is undermanned. At the last count, he said, it was short by 800 to 1000 ranks. In addition to addressing this deficit, he said the ranks need a very large number of boats, ATVs and aircraft to adequately patrol the area: "You cannot patrol that hinterland without these things. I have been in those areas and particularly in the major gold and diamond mining areas there are no roads."
He said that the population might be low but the level of crime is high, and it is "for these reasons I do believe that the Ministry of Home Affairs and the Police Force need to do a complete overhaul of policing in that division if serious crimes are to be brought under control. Right now there is a reasonable assumption among the criminals that they will not be caught."
"What I think is that developing a higher standard of policing – more policemen, more boats, more aircraft, more vehicles and a reorganisation of that whole division," was necessary he said, again emphasizing that the division was just too big for one man to handle.
Trying to give a visual picture of just how vast the division is, Granger said that some of the areas are bigger than some European countries. He called for policing in the entire country particularly in the hinterland regions to be revisited "if we are to have this situation tackled."
According to Granger who has several decades of experience in the security sector, over the last ten years the rate of murders in the country as a whole is three times higher and "by my calculation there is a murder – I think three in a week."
"Yes there has been a significant increase in violence, in all forms of violent crimes including murders," he went on, adding that one must not omit rapes and trafficking in persons which occur often in E & F Division.
Granger expressed the view that police inaction is to be blamed for a "lack of true figures of these types of crime." He said that a lot of the time, the police do not have transportation to get to the crime scene. Granger said that he visited an interior location several months ago and was informed that young girls are being taken to mining areas and used as sex slaves.
There has always been concern about how crime is tackled in the area. Persaud had told this newspaper last year that it is difficult for the Force because of the geography of the area, the scattered population and inadequate communications.
In many instances, the police depend on public help to capture perpetrators until they arrive at the scene, but sometimes they may take as much as a day or two for them to arrive.
Around the Web