The extension of the roadway between the Demerara  Harbour Bridge (DHB)  and Parika on the East Bank of Essequibo to a four-lane highway is one of several initiatives which the government plans to embark on in the future.
This is according to Presi-dent Bharrat Jagdeo who told a gathering at the Parika Night and Expo 2011, which was held in the Region Two community on Saturday, that the plan is one of several to be implemented on sections of the country's roadways which are burdened with traffic.
According to the Govern-ment Information Agency (GINA), while addressing the gathering, the Head of State also noted that the $600M state-of-the- art synthetic athletic track which is being built at Leonora on the West Coast of Demerara (WCD) is a necessary component of community development.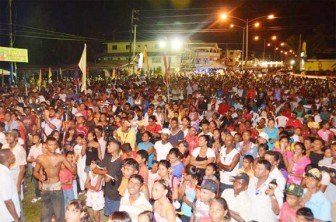 "That facility when completed, will be lighted, hundreds of events will run off there, you're going to have a series of hotels and restaurants and a number of things built around it so that the West Coast too will enjoy a whole range of facilities that people in Georgetown and other parts have access to," the President said.
The President also noted that the Leonora Technical Institute which is under construction will attract students from across the country and he noted that residents of the WCD will benefit from the venture in terms of cost for transportation. Several government officials including Housing Minister Irfaan Ali and PPP presidential candidate Donald Ramotar attended the event.
According to GINA, the event attracted over 30 participants and chairman of the Mara/Parika Neighbourhood Democratic council (NDC) Parmanand Samlall, stated that the majority of the participating entities were from the local business community.
The event was organised by the NDC, the business community and the Ministry of Tourism, Industry and Commerce.
Around the Web